5 Yoga Poses You Can Do in a Chair
What do you use when doing yoga? You will say yoga mat, yoga ball, and yoga brick. That's right, besides, you can use a chair. The office workers, overweight people, the elderly, and people with mobility issues can achieve certain yoga chair poses. Chair yoga is helpful for health. Following these poses would be a good place to start.        
Who is suitable for chair yoga?
Chair yoga can be practiced by anyone who wants to enjoy the benefits of yoga. However, chair yoga is suitable for office workers, overweight people, the elderly, and people with mobility issues (the disabled and the injured person).  A chair is the best yoga tool for these people above.  As for the chair, you don't have to buy a special yoga chair. What you need is a sturdy chair that you feel comfortable, which means chairs with no wheels or no shaking. Starting poses by making sure your butt is seated firmly.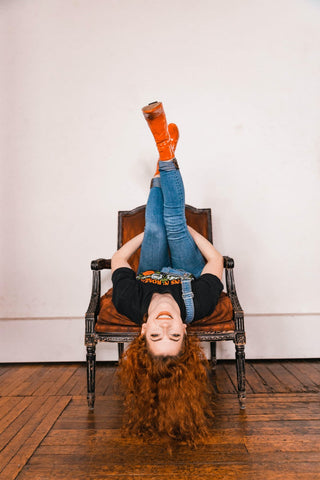 5 chair yoga poses and their benefits
Are you worried about the highly difficult pose that you can not achieve? Well, what you should do is to start with the easy pose. Although the pose is simple enough, you may be surprised by the benefits of chair yoga with 5 easy poses.  Let's have a look at these simple poses.
-Seated Cat-Cow  
Steps:
Sit on a chair with your feet flat on the floor. Place your hands on your knees.
When inhaling, allow your belly to move forward, arch your back, send your heart forward, and look up to the ceiling.  Relax your shoulders and jaw.
When exhaling, curl your spine and chin to the chest, letting the shoulder and head forward.
Continue moving between cow on the inhalations and cat on the exhalations for five breaths.
Benefits: It helps you to stretch the spine and neck, massages the spine and internal organs, opens the chest to allow more air comes in. The movement with the breath in Cat-Cow relieves stress and tension also calm your mind.
-Seated Eagle Arms
Steps:
Sit in the middle of a chair. Take a breath. As you inhale, stretch your arms out to your sides.
When

exhaling, bring them in front of you and swing your right arm under your left, and grabbing your shoulders with the opposite hands, hugging yourself.
For more flexibility in your shoulders, release your grip and continue wrapping your forearms around each other until your right fingers rest in your left palm.
When inhaling

, lift your elbows a few inches higher.
When 

exhal

ing

, roll your shoulders down, relaxing them away from your ears.
Take a few breaths, repeating the elbow lift and shoulder roll if you like.
Benefits: This pose opens up the joints in the arms and shoulders. The two arms are brought together and the two fore-arms are twisted together. It gives a good stretch to the arms and the shoulder muscles.
-Seated Spinal Twist
Steps:
Sit sideways on the chair, facing the left.
Twist your torso toward the left, holding onto the back of the chair, for a spinal twist.
Lengthen your spine on each inhale and twist on each exhales for five breaths.
Move your legs around to the right side of the chair and repeat the twist to the right side.
Benefits: Seated spinal twist pose fires up the digestive system to get things moving as well as stretch the back, shoulders, and neck. Therefore, it helps you get the body stretched, organs stimulated, and the mind eased.
 -Seated Forward Bend
Steps:
Sit on a chair, keeping your knees together and your feet flat on the floor.
Inhale; as you exhale, bend forward, rounding your shoulders and bending your back forward one vertebra at a time.
Let your arms hang by your sides.
Hold this pose for three or more breaths.
Benefits: Practising Seated Forward Bend pose in your routine helps to reduce blood pressure and using a chair to avoid overtaxing your back. It is suitable for people with tight hamstrings. This pose stretches the back body(spine, hamstrings) and calms the mind. Besides,  it plays an important part in meditation preparation.
-Seated Pigeon
Steps:
Sit up straight in a chair and lean your back on it.
Cross feet at ankles, place your hand on knee.
Inhale, lightly push down your knees to give hips a nice stretch, keep your legs perpendicular to the ground.
Release the pressure of hands, exhale.
Repeat on the other side and keep it 3 times each side.
Benefits: It's perfect for people who sit for a long time. This pose opens the hip joint, increases hip flexibility, and stretches the thighs. 
After finishing 5 yoga chair poses, keep seated and close your eyes for a 5-minute meditation.
These 5 poses will benefit yoga followers in a chair and help you to achieve yoga practice easily. With the outbreak of COVID spreading all over the world, you have more time to spend with your family. It's a great idea to do a yoga chair with your parents. Just go for it with a chair and you will love it. Are you ready to try chair yoga? 
If you have any other questions, feel free to comment below and we would like to get back to you as soon as possible.     
You may also like,
A list of 5 Common Yoga Symbols and Their Meanings
It is time to awake your body - spring yoga
2 comments
https://www.youtube.com/redirect?event=channel_description&q=https://radioly.app
https://www.youtube.com/redirect?q=https://radioly.app
https://www.google.com/url?q=https://radioly.app
https://www.google.com/url?sa=t&url=https://radioly.app
https://www.google.com/url?sa=t&url=https://radioly.app
https://maps.google.com/url?sa=t&url=https://radioly.app
https://maps.google.com/url?q=https://radioly.app
https://images.google.de/url?q=https://radioly.app
https://maps.google.de/url?q=https://radioly.app
https://www.google.de/url?q=https://radioly.app
https://www.t.me/iv?url=https://radioly.app
https://pw.mail.ru/forums/fredirect.php?url=radioly.app
https://images.google.co.uk/url?sa=t&url=https://radioly.app
https://images.google.co.uk/url?sa=t&url=https://radioly.app
https://maps.google.co.uk/url?sa=t&url=https://radioly.app
https://maps.google.co.uk/url?sa=t&url=https://radioly.app
https://www.google.co.uk/url?q=https://radioly.app
https://cse.google.co.uk/url?q=https://radioly.app
https://cse.google.co.uk/url?sa=i&url=https://radioly.app
https://maps.google.co.jp/url?sa=t&url=https://radioly.app
https://maps.google.co.jp/url?q=https://radioly.app
https://maps.google.co.jp/url?sa=t&url=https://radioly.app
https://maps.google.co.jp/url?sa=t&url=https://radioly.app
https://cse.google.co.jp/url?sa=i&url=https://radioly.app
https://images.google.co.jp/url?sa=t&url=https://radioly.app
https://images.google.co.jp/url?q=https://radioly.app
https://images.google.co.jp/url?sa=t&url=https://radioly.app
https://www.google.co.jp/url?q=https://radioly.app
https://www.google.fr/url?q=https://radioly.app
https://www.google.fr/url?sa=t&url=https://radioly.app
https://images.google.fr/url?q=https://radioly.app
https://images.google.fr/url?sa=t&url=https://radioly.app
https://images.google.fr/url?sa=t&url=https://radioly.app
https://maps.google.fr/url?q=https://radioly.app
https://maps.google.fr/url?sa=t&url=https://radioly.app
https://maps.google.fr/url?sa=t&url=https://radioly.app
https://maps.google.es/url?sa=t&url=https://radioly.app
https://maps.google.es/url?q=https://radioly.app
https://maps.google.es/url?sa=t&url=https://radioly.app
https://images.google.es/url?q=https://radioly.app
https://images.google.es/url?sa=t&url=https://radioly.app
https://images.google.es/url?sa=t&url=https://radioly.app
https://www.google.es/url?q=https://radioly.app
https://images.google.com.br/url?sa=t&url=https://radioly.app
https://images.google.com.br/url?q=https://radioly.app
https://images.google.com.br/url?sa=t&url=https://radioly.app
https://www.google.com.br/url?q=https://radioly.app
https://cse.google.com.br/url?sa=i&url=https://radioly.app
https://maps.google.com.br/url?sa=t&url=https://radioly.app
https://maps.google.com.br/url?sa=t&url=https://radioly.app
https://maps.google.com.br/url?q=https://radioly.app
https://www.bing.com/news/apiclick.aspx?ref=FexRss&aid=&tid=60610D15439B4103A0BF4E1051EDCF8B&url=https://radioly.app&c=12807976268214810202&mkt=en-us
https://images.google.it/url?q=https://radioly.app
https://images.google.it/url?sa=t&url=https://radioly.app
https://images.google.it/url?sa=t&url=https://radioly.app
https://images.google.it/url?sa=t&url=https://radioly.app
https://www.google.it/url?q=https://radioly.app
https://maps.google.it/url?sa=t&url=https://radioly.app
https://maps.google.it/url?q=https://radioly.app
https://m.ok.ru/dk?st.cmd=outLinkWarning&st.rfn=https://radioly.app
https://maps.google.ru/url?sa=t&url=https://radioly.app
https://www.google.ru/url?sa=t&url=https://radioly.app
https://www.google.ru/url?q=https://radioly.app
https://images.google.ru/url?sa=t&url=https://radioly.app
https://images.google.ru/url?sa=t&url=https://radioly.app
https://wasearch.loc.gov/e2k//radioly.app
https://maps.google.ca/url?q=https://radioly.app
https://maps.google.ca/url?sa=t&url=https://radioly.app
https://maps.google.ca/url?sa=t&url=https://radioly.app
https://cse.google.ca/url?sa=i&url=https://radioly.app
https://images.google.ca/url?sa=t&url=https://radioly.app
https://images.google.ca/url?sa=t&url=https://radioly.app
https://images.google.ca/url?q=https://radioly.app
https://www.google.ca/url?q=https://radioly.app
https://www.google.nl/url?q=https://radioly.app
https://maps.google.nl/url?sa=t&url=https://radioly.app
https://maps.google.nl/url?sa=t&url=https://radioly.app
https://images.google.nl/url?sa=t&url=https://radioly.app
https://images.google.nl/url?sa=t&url=https://radioly.app
https://maps.google.co.in/url?sa=t&url=https://radioly.app
https://maps.google.co.in/url?sa=t&url=https://radioly.app
https://images.google.co.in/url?sa=t&url=https://radioly.app
https://images.google.co.in/url?sa=t&url=https://radioly.app
https://images.google.co.in/url?sa=t&url=https://radioly.app
https://images.google.co.in/url?q=https://radioly.app
https://www.google.co.in/url?q=https://radioly.app
https://cse.google.co.in/url?sa=i&url=https://radioly.app
https://maps.google.pl/url?sa=t&url=https://radioly.app
https://maps.google.pl/url?sa=t&url=https://radioly.app
https://www.google.pl/url?q=https://radioly.app
https://images.google.pl/url?sa=t&url=https://radioly.app
https://images.google.pl/url?sa=t&url=https://radioly.app
https://cse.google.co.id/url?sa=i&url=https://radioly.app
https://maps.google.co.id/url?sa=t&url=https://radioly.app
https://maps.google.co.id/url?sa=t&url=https://radioly.app
https://maps.google.co.id/url?q=https://radioly.app
https://maps.google.co.id/url?sa=t&url=https://radioly.app
https://images.google.co.id/url?q=https://radioly.app
https://images.google.co.id/url?sa=t&url=https://radioly.app
https://www.google.co.id/url?q=https://radioly.app
https://cse.google.com.tw/url?q=https://radioly.app
https://images.google.com.tw/url?sa=t&url=https://radioly.app
https://images.google.com.tw/url?sa=t&url=https://radioly.app
https://www.google.com.tw/url?q=https://radioly.app
https://maps.google.com.tw/url?sa=t&url=https://radioly.app
https://maps.google.com.tw/url?sa=t&url=https://radioly.app
https://maps.google.com.tw/url?sa=t&url=https://radioly.app
https://ipv4.google.com/url?q=https://radioly.app
https://maps.google.com.mx/url?sa=t&url=https://radioly.app
https://maps.google.com.mx/url?sa=t&url=https://radioly.app
https://www.google.com.mx/url?q=https://radioly.app
https://images.google.com.mx/url?sa=t&url=https://radioly.app
https://images.google.com.mx/url?sa=t&url=https://radioly.app
https://images.google.com.mx/url?sa=t&url=https://radioly.app
https://images.google.bs/url?q=https://radioly.app
https://tyonabi.sakura.ne.jp/link/cgi-bin/out.cgi?id=dorian362&cg=1&siteurl=radioly.app
https://www.google.com.au/url?sa=t&url=https://radioly.app
https://www.google.com.au/url?q=https://radioly.app
https://cse.google.com.au/url?sa=i&url=https://radioly.app
https://maps.google.com.au/url?q=https://radioly.app
https://maps.google.com.au/url?sa=t&url=https://radioly.app
https://images.google.com.au/url?sa=t&url=https://radioly.app
https://images.google.com.au/url?sa=t&url=https://radioly.app
https://images.google.cz/url?sa=t&url=https://radioly.app
https://images.google.cz/url?q=https://radioly.app
https://images.google.cz/url?sa=t&url=https://radioly.app
https://www.google.cz/url?sa=t&url=https://radioly.app
https://www.google.cz/url?q=https://radioly.app
https://maps.google.cz/url?q=https://radioly.app
https://maps.google.cz/url?sa=t&url=https://radioly.app
https://maps.google.cz/url?sa=t&url=https://radioly.app
https://images.google.co.th/url?sa=t&url=https://radioly.app
https://images.google.co.th/url?sa=t&url=https://radioly.app
https://maps.google.co.th/url?sa=t&url=https://radioly.app
https://maps.google.co.th/url?sa=t&url=https://radioly.app
https://cse.google.co.th/url?sa=i&url=https://radioly.app
https://cse.google.co.th/url?q=https://radioly.app
https://www.google.co.th/url?sa=t&url=https://radioly.app
https://www.google.co.th/url?q=https://radioly.app
https://www.google.com.ar/url?q=https://radioly.app
https://maps.google.com.ar/url?q=https://radioly.app
https://cse.google.be/url?sa=i&url=https://radioly.app
https://images.google.be/url?q=https://radioly.app
https://images.google.be/url?sa=t&url=https://radioly.app
https://images.google.be/url?sa=t&url=https://radioly.app
https://maps.google.be/url?sa=t&url=https://radioly.app
https://maps.google.be/url?q=https://radioly.app
https://maps.google.be/url?sa=t&url=https://radioly.app
https://www.google.be/url?q=https://radioly.app
https://www.google.se/url?q=https://radioly.app
https://images.google.gr/url?sa=t&url=https://radioly.app
https://images.google.gr/url?q=https://radioly.app
https://images.google.gr/url?sa=t&url=https://radioly.app
https://maps.google.gr/url?sa=t&url=https://radioly.app
https://maps.google.gr/url?sa=t&url=https://radioly.app
https://maps.google.gr/url?q=https://radioly.app
https://www.google.gr/url?q=https://radioly.app
https://galter.northwestern.edu/exit?url=https://radioly.app
https://images.google.com/url?sa=t&url=https://radioly.app
https://images.google.com/url?sa=t&url=https://radioly.app
https://cse.google.com.vn/url?q=https://radioly.app
https://images.google.com.vn/url?sa=t&url=https://radioly.app
https://images.google.com.vn/url?sa=t&url=https://radioly.app
https://www.google.com.vn/url?q=https://radioly.app
https://www.google.com.vn/url?sa=t&url=https://radioly.app
https://www.google.pt/url?sa=t&url=https://radioly.app
https://www.google.pt/url?q=https://radioly.app
https://maps.google.pt/url?sa=t&url=https://radioly.app
https://maps.google.pt/url?sa=t&url=https://radioly.app
https://images.google.pt/url?sa=t&url=https://radioly.app
https://images.google.pt/url?sa=t&url=https://radioly.app
https://maps.google.ro/url?sa=t&url=https://radioly.app
https://maps.google.ro/url?sa=t&url=https://radioly.app
https://www.google.ro/url?q=https://radioly.app
https://images.google.ro/url?sa=t&url=https://radioly.app
https://images.google.ro/url?sa=t&url=https://radioly.app
https://cse.google.co.kr/url?sa=i&url=https://radioly.app
https://maps.google.co.kr/url?q=https://radioly.app
https://www.google.co.kr/url?q=https://radioly.app
https://images.google.co.kr/url?q=https://radioly.app
https://www.google.com.tr/url?q=https://radioly.app
https://maps.google.com.tr/url?sa=t&url=https://radioly.app
https://maps.google.com.tr/url?sa=t&url=https://radioly.app
https://images.google.com.tr/url?sa=t&url=https://radioly.app
https://images.google.com.tr/url?sa=t&url=https://radioly.app
https://cse.google.com.tr/url?q=https://radioly.app
https://www.google.dk/url?q=https://radioly.app
https://images.google.dk/url?q=https://radioly.app
https://images.google.dk/url?sa=t&url=https://radioly.app
https://images.google.dk/url?sa=t&url=https://radioly.app
https://maps.google.dk/url?sa=t&url=https://radioly.app
https://maps.google.dk/url?sa=t&url=https://radioly.app
https://maps.google.dk/url?q=https://radioly.app
https://maps.google.dk/url?sa=t&url=https://radioly.app
https://www.google.no/url?q=https://radioly.app
https://images.google.bg/url?sa=t&url=https://radioly.app
https://images.google.bg/url?sa=t&url=https://radioly.app
https://images.google.bg/url?sa=t&url=https://radioly.app
https://images.google.bg/url?q=https://radioly.app
https://www.google.bg/url?q=https://radioly.app
https://cse.google.bg/url?sa=i&url=https://radioly.app
https://maps.google.bg/url?q=https://radioly.app
https://maps.google.bg/url?sa=t&url=https://radioly.app
https://images.google.ch/url?sa=t&url=https://radioly.app
https://www.google.ch/url?q=https://radioly.app
https://cse.google.ch/url?sa=i&url=https://radioly.app
https://maps.google.ch/url?q=https://radioly.app
https://maps.google.ch/url?sa=t&url=https://radioly.app
https://maps.google.ch/url?sa=t&url=https://radioly.app
https://images.google.com.my/url?sa=t&url=https://radioly.app
https://images.google.com.my/url?sa=t&url=https://radioly.app
https://maps.google.com.my/url?sa=t&url=https://radioly.app
https://maps.google.com.my/url?sa=t&url=https://radioly.app
https://www.google.com.my/url?q=https://radioly.app
https://www.google.com.sg/url?sa=t&url=https://radioly.app
https://www.google.com.sg/url?q=https://radioly.app
https://cse.google.com.sg/url?q=https://radioly.app
https://maps.google.com.sg/url?sa=t&url=https://radioly.app
https://maps.google.com.sg/url?sa=t&url=https://radioly.app
https://images.google.com.sg/url?sa=t&url=https://radioly.app
https://images.google.com.sg/url?sa=t&url=https://radioly.app
https://maps.google.ie/url?sa=t&url=https://radioly.app
https://maps.google.ie/url?sa=t&url=https://radioly.app
https://maps.google.ie/url?q=https://radioly.app
https://www.google.ie/url?q=https://radioly.app
https://images.google.ie/url?sa=t&url=https://radioly.app
https://images.google.ie/url?sa=t&url=https://radioly.app
https://images.google.ie/url?q=https://radioly.app
https://www.fhwa.dot.gov/reauthorization/reauexit.cfm?link=https://radioly.app
https://www.fhwa.dot.gov/reauthorization/reauexit.cfm?link=https://radioly.app
https://rspcb.safety.fhwa.dot.gov/pageRedirect.aspx?Redirectedurl=https://radioly.app
https://images.google.at/url?sa=t&url=https://radioly.app
https://images.google.at/url?sa=t&url=https://radioly.app
https://maps.google.at/url?sa=t&url=https://radioly.app
https://maps.google.at/url?q=https://radioly.app
https://maps.google.at/url?sa=t&url=https://radioly.app
https://www.google.at/url?q=https://radioly.app
https://cse.google.at/url?sa=i&url=https://radioly.app
https://www.google.fi/url?sa=t&url=https://radioly.app
https://www.google.fi/url?q=https://radioly.app
https://images.google.fi/url?sa=t&url=https://radioly.app
https://images.google.fi/url?sa=t&url=https://radioly.app
https://images.google.fi/url?q=https://radioly.app
https://maps.google.fi/url?sa=t&url=https://radioly.app
https://maps.google.fi/url?q=https://radioly.app
https://maps.google.fi/url?sa=t&url=https://radioly.app
https://maps.google.co.il/url?q=https://radioly.app
https://maps.google.co.il/url?sa=t&url=https://radioly.app
https://maps.google.co.il/url?sa=t&url=https://radioly.app
https://maps.google.co.il/url?sa=t&url=https://radioly.app
https://images.google.co.il/url?sa=t&url=https://radioly.app
https://images.google.co.il/url?q=https://radioly.app
https://images.google.co.il/url?sa=t&url=https://radioly.app
https://www.google.co.il/url?q=https://radioly.app
https://cse.google.co.il/url?sa=i&url=https://radioly.app
https://images.google.com.co/url?q=https://radioly.app
https://maps.google.com.co/url?q=https://radioly.app
https://maps.google.com.co/url?sa=t&url=https://radioly.app
https://www.google.com.co/url?q=https://radioly.app
https://www.google.bs/url?q=https://radioly.app
https://www.google.co.za/url?sa=t&url=https://radioly.app
https://www.google.co.za/url?q=https://radioly.app
https://images.google.co.za/url?sa=t&url=https://radioly.app
https://images.google.co.za/url?sa=t&url=https://radioly.app
https://maps.google.co.za/url?sa=t&url=https://radioly.app
https://maps.google.co.za/url?sa=t&url=https://radioly.app
https://cse.google.co.za/url?q=https://radioly.app
https://cse.google.co.za/url?sa=i&url=https://radioly.app
https://club.panasonic.jp/member/terms/?siteId=B1&returnurl=https://radioly.app
https://club.panasonic.jp/member/terms/?siteId=B1&returnurl=https://radioly.app
https://www.google.cl/url?sa=t&url=https://radioly.app
https://images.google.cl/url?q=https://radioly.app
https://images.google.cl/url?sa=t&url=https://radioly.app
https://images.google.cl/url?sa=t&url=https://radioly.app
https://maps.google.cl/url?sa=t&url=https://radioly.app
https://maps.google.cl/url?sa=t&url=https://radioly.app
https://maps.google.cl/url?q=https://radioly.app
https://cse.google.cl/url?sa=i&url=https://radioly.app
https://cse.google.com.hk/url?sa=i&url=https://radioly.app
https://images.google.com.hk/url?sa=t&url=https://radioly.app
https://images.google.com.hk/url?q=https://radioly.app
https://images.google.com.hk/url?sa=t&url=https://radioly.app
https://www.google.com.hk/url?q=https://radioly.app
https://maps.google.com.hk/url?sa=t&url=https://radioly.app
https://maps.google.com.hk/url?sa=t&url=https://radioly.app
https://maps.google.com.hk/url?q=https://radioly.app
https://www.wikimapia.org/external_link?url=https://radioly.app
https://cse.google.co.nz/url?sa=i&url=https://radioly.app
https://images.google.co.nz/url?sa=t&url=https://radioly.app
https://www.google.co.nz/url?sa=t&url=https://radioly.app
https://www.google.co.nz/url?q=https://radioly.app
https://maps.google.co.nz/url?sa=t&url=https://radioly.app
https://maps.google.co.nz/url?sa=t&url=https://radioly.app
https://jump.2ch.net/?radioly.app
https://www.google.com.ph/url?q=https://radioly.app
https://domain.opendns.com/radioly.app
https://id.telstra.com.au/register/crowdsupport?gotourl=https://radioly.app
https://images.google.com.sa/url?sa=t&url=https://radioly.app
https://www.google.com.sa/url?q=https://radioly.app
https://www.google.com.sa/url?q=https://radioly.app
https://community.nfpa.org/external-link.jspa?url=https://radioly.app
https://www.google.sk/url?q=https://radioly.app
https://cse.google.sk/url?q=https://radioly.app
https://maps.google.sk/url?sa=t&url=https://radioly.app
https://maps.google.sk/url?sa=t&url=https://radioly.app
https://images.google.sk/url?sa=t&url=https://radioly.app
https://images.google.sk/url?sa=t&url=https://radioly.app
https://images.google.com.pe/url?sa=t&url=https://radioly.app
https://www.google.com.pe/url?q=https://radioly.app
https://maps.google.ae/url?sa=t&url=https://radioly.app
https://maps.google.ae/url?q=https://radioly.app
https://www.google.ae/url?q=https://radioly.app
https://community.esri.com/external-link.jspa?url=https://radioly.app
https://www.google.com.eg/url?q=https://radioly.app
https://maps.google.com.eg/url?q=https://radioly.app
https://images.google.com.eg/url?sa=t&url=https://radioly.app
https://images.google.com.eg/url?q=https://radioly.app
https://georgewbushlibrary.smu.edu/exit.aspx?url=https://radioly.app
https://images.google.hr/url?q=https://radioly.app
https://www.google.hr/url?q=https://radioly.app
https://maps.google.hr/url?q=https://radioly.app
https://cse.google.rs/url?q=https://radioly.app
https://www.google.rs/url?q=https://radioly.app
https://www.google.co.ve/url?q=https://radioly.app
https://maps.google.co.ve/url?sa=t&url=https://radioly.app
https://cse.google.co.ve/url?q=https://radioly.app
https://transtats.bts.gov/exit.asp?url=https://radioly.app
https://www.transtats.bts.gov/exit.asp?url=https://radioly.app
https://www.google.com.pk/url?q=https://radioly.app
https://images.google.com.pk/url?sa=t&url=https://radioly.app
https://www.google.si/url?q=https://radioly.app
https://www.google.si/url?sa=t&url=https://radioly.app
https://www2.ogs.state.ny.us/help/urlstatusgo.html?url=https://radioly.app
https://www2.ogs.state.ny.us/help/urlstatusgo.html?url=https://radioly.app
https://images.google.lt/url?q=https://radioly.app
https://www.google.lt/url?q=https://radioly.app
https://maps.google.lt/url?q=https://radioly.app
https://maps.google.lv/url?sa=t&url=https://radioly.app
https://maps.google.lv/url?q=https://radioly.app
https://www.google.lv/url?q=https://radioly.app
https://images.google.lv/url?q=https://radioly.app
https://advisor.wmtransfer.com/SiteDetails.aspx?url=https://radioly.app
https://evolve-compliance.webflow.io
https://images.google.com.do/url?q=https://radioly.app
https://maps.google.com.do/url?q=https://radioly.app
https://images.google.com.ec/url?q=https://radioly.app
https://maps.google.com.ec/url?q=https://radioly.app
https://maps.google.lu/url?q=https://radioly.app
https://images.google.lu/url?q=https://radioly.app
https://www.google.lu/url?q=https://radioly.app
https://images.google.co.bw/url?q=https://radioly.app
https://www.google.co.bw/url?q=https://radioly.app
https://forum.solidworks.com/external-link.jspa?url=https://radioly.app
https://www.google.com.pr/url?q=https://radioly.app
https://sc.hkexnews.hk/TuniS/radioly.app
https://www.google.co.ma/url?q=https://radioly.app
https://images.google.co.ma/url?q=https://radioly.app
https://maps.google.co.ke/url?q=https://radioly.app
https://maps.google.co.ke/url?q=https://radioly.app
https://www.google.co.ke/url?q=https://radioly.app
https://images.google.co.ke/url?q=https://radioly.app
https://images.google.co.ke/url?q=https://radioly.app
https://images.google.co.cr/url?q=https://radioly.app
https://maps.google.co.cr/url?q=https://radioly.app
https://maps.google.co.cr/url?sa=t&url=https://radioly.app
https://www.catchthemes.com/support-forum/users/haibola/
https://onlinemanuals.txdot.gov/help/urlstatusgo.html?url=https://radioly.app
https://www.google.ee/url?q=https://radioly.app
https://maps.google.ee/url?q=https://radioly.app
https://images.google.ee/url?q=https://radioly.app
https://images.google.by/url?q=https://radioly.app
https://www.google.by/url?q=https://radioly.app
https://maps.google.by/url?q=https://radioly.app
https://maps.google.lk/url?q=https://radioly.app
https://www.google.lk/url?q=https://radioly.app
https://images.google.lk/url?q=https://radioly.app
https://www.behimba.com/es/?option=com_k2&view=itemlist&task=user&id=1097489
https://images.google.com.gt/url?q=https://radioly.app
https://images.google.com.gt/url?q=https://radioly.app
https://www.google.com.gt/url?q=https://radioly.app
https://maps.google.com.gt/url?q=https://radioly.app
https://www.google.is/url?q=https://radioly.app
https://images.google.is/url?q=https://radioly.app
https://maps.google.is/url?q=https://radioly.app
https://images.google.com.cu/url?q=https://radioly.app
https://www.google.com.cu/url?q=https://radioly.app
https://maps.google.com.cu/url?q=https://radioly.app
https://www.google.com.ng/url?q=https://radioly.app
https://www.google.com.ng/url?sa=t&url=https://radioly.app
https://www.google.ps/url?q=https://radioly.app
https://www.google.com.gh/url?q=https://radioly.app
https://images.google.com.gh/url?q=https://radioly.app
https://maps.google.co.ug/url?q=https://radioly.app
https://www.google.co.ug/url?q=https://radioly.app
https://cse.google.co.ug/url?q=https://radioly.app
https://images.google.co.ug/url?q=https://radioly.app
https://www.doctorslounge.com/index.php/member/1481968
https://www.doctorslounge.com/index.php/member/memberlist/G0/join_date/asc/L20/P696760
https://www.google.tn/url?q=https://radioly.app
https://cse.google.tn/url?q=https://radioly.app
https://maps.google.hn/url?q=https://radioly.app
https://images.google.hn/url?q=https://radioly.app
https://www.google.hn/url?q=https://radioly.app
https://www.google.com.py/url?q=https://radioly.app
https://maps.google.kz/url?q=https://radioly.app
https://www.google.kz/url?q=https://radioly.app
https://images.google.kz/url?q=https://radioly.app
https://cse.google.cat/url?q=https://radioly.app
https://www.google.cat/url?q=https://radioly.app
https://kw.pm.org/wiki/index.cgi?james
https://www.google.com.sv/url?q=https://radioly.app
https://cse.google.com.sv/url?q=https://radioly.app
https://maps.google.com.lb/url?q=https://radioly.app
https://www.google.com.lb/url?q=https://radioly.app
https://images.google.com.lb/url?q=https://radioly.app
https://kw.pm.org/wiki/admin.cgi?james
https://vatforum.minfin.gov.ua/member.php?action=profile&uid=5557
https://www.google.dz/url?q=https://radioly.app
https://maps.google.dz/url?q=https://radioly.app
https://maps.google.dz/url?q=https://radioly.app
https://images.google.dz/url?q=https://radioly.app
https://images.google.dz/url?q=https://radioly.app
https://maps.google.com.np/url?q=https://radioly.app
https://www.google.com.np/url?q=https://radioly.app
https://maps.google.com.bd/url?q=https://radioly.app
https://www.google.com.bd/url?q=https://radioly.app
https://images.google.com.bd/url?q=https://radioly.app
https://maps.google.com.ni/url?q=https://radioly.app
https://www.google.com.ni/url?q=https://radioly.app
https://images.google.com.ni/url?q=https://radioly.app
https://images.google.com.bo/url?q=https://radioly.app
https://maps.google.com.bo/url?q=https://radioly.app
https://www.google.com.bo/url?q=https://radioly.app
https://www.google.mu/url?q=https://radioly.app
https://cse.google.tt/url?q=https://radioly.app
https://www.google.tt/url?q=https://radioly.app
https://images.google.jo/url?q=https://radioly.app
https://maps.google.jo/url?q=https://radioly.app
https://www.google.jo/url?q=https://radioly.app
https://maps.google.ge/url?q=https://radioly.app
https://images.google.ge/url?q=https://radioly.app
https://www.google.ge/url?q=https://radioly.app
https://www.google.com.af/url?q=https://radioly.app
https://images.google.com.af/url?q=https://radioly.app
https://a.pr-cy.ru/radioly.app/
https://images.google.ba/url?q=https://radioly.app
https://maps.google.ba/url?q=https://radioly.app
https://www.google.ba/url?q=https://radioly.app
https://images.google.com.kh/url?q=https://radioly.app
https://images.google.com.kh/url?q=https://radioly.app
https://www.google.com.kh/url?q=https://radioly.app
https://maps.google.com.kh/url?q=https://radioly.app
https://maps.google.com.kh/url?q=https://radioly.app
https://maps.google.iq/url?q=https://radioly.app
https://maps.google.iq/url?q=https://radioly.app
https://www.google.iq/url?q=https://radioly.app
https://images.google.iq/url?q=https://radioly.app
https://images.google.iq/url?q=https://radioly.app
https://maps.google.ad/url?q=https://radioly.app
https://images.google.ad/url?q=https://radioly.app
https://www.google.ad/url?q=https://radioly.app
https://maps.google.com.jm/url?q=https://radioly.app
https://www.google.com.jm/url?q=https://radioly.app
https://images.google.com.jm/url?q=https://radioly.app
https://www.google.com.mt/url?q=https://radioly.app
https://www.google.as/url?q=https://radioly.app
https://maps.google.as/url?q=https://radioly.app
https://www.autismeurope.org/members/kevinmay73/activity/51680/
https://www.google.com.na/url?q=https://radioly.app
https://images.google.com.cy/url?q=https://radioly.app
https://www.google.com.cy/url?q=https://radioly.app
https://maps.google.com.ly/url?q=https://radioly.app
https://www.google.com.ly/url?q=https://radioly.app
https://images.google.com.ly/url?q=https://radioly.app
https://images.google.md/url?q=https://radioly.app
https://www.google.md/url?q=https://radioly.app
https://www.poptype.co/kardusqq/link-alternatif-diorqq-partaiqq-wigoqq-baliqq-palapaqq-texasqq-bandarq228-dewamainq
https://www.google.li/url?q=https://radioly.app
https://maps.google.li/url?q=https://radioly.app
https://images.google.li/url?q=https://radioly.app
https://www.google.sn/url?q=https://radioly.app
https://cse.google.sn/url?q=https://radioly.app
https://www.google.az/url?q=https://radioly.app
https://images.google.com.bh/url?q=https://radioly.app
https://www.google.com.bh/url?q=https://radioly.app
https://maps.google.com.bh/url?q=https://radioly.app
https://www.google.cm/url?q=https://radioly.app
https://images.google.cm/url?q=https://radioly.app
https://maps.google.cm/url?q=https://radioly.app
https://maps.google.cm/url?q=https://radioly.app
https://www.google.com.pa/url?q=https://radioly.app
https://www.google.com.mm/url?q=https://radioly.app
https://images.google.com.mm/url?q=https://radioly.app
https://plus.google.com/url?sa=t&url=https://radioly.app
https://maps.google.com/url?sa=t&url=https://radioly.app
https://cse.google.de/url?sa=t&url=https://radioly.app
https://images.google.de/url?sa=t&url=https://radioly.app
https://maps.google.de/url?sa=t&url=https://radioly.app
https://www.google.de/url?sa=t&url=https://radioly.app
https://www.google.co.uk/url?sa=t&url=https://radioly.app
https://cse.google.co.uk/url?sa=t&url=https://radioly.app
https://cse.google.co.jp/url?sa=t&url=https://radioly.app
https://images.google.co.jp/url?sa=t&url=https://radioly.app
https://www.google.co.jp/url?sa=t&url=https://radioly.app
https://cse.google.fr/url?sa=t&url=https://radioly.app
https://www.google.fr/url?sa=t&url=https://radioly.app
https://maps.google.es/url?sa=t&url=https://radioly.app
https://images.google.es/url?sa=t&url=https://radioly.app
https://cse.google.es/url?sa=t&url=https://radioly.app
https://www.google.es/url?sa=t&url=https://radioly.app
https://www.google.it/url?sa=t&url=https://radioly.app
https://maps.google.it/url?sa=t&url=https://radioly.app
https://cse.google.it/url?sa=t&url=https://radioly.app
https://images.google.com.br/url?sa=t&url=https://radioly.app
https://www.google.com.br/url?sa=t&url=https://radioly.app
https://cse.google.com.br/url?sa=t&url=https://radioly.app
https://maps.google.ca/url?sa=t&url=https://radioly.app
https://cse.google.ca/url?sa=t&url=https://radioly.app
https://images.google.ca/url?sa=t&url=https://radioly.app
https://www.google.ca/url?sa=t&url=https://radioly.app
https://cse.google.ru/url?sa=t&url=https://radioly.app
https://maps.google.ru/url?sa=t&url=https://radioly.app
https://www.google.ru/url?sa=t&url=https://radioly.app
https://cse.google.com.hk/url?sa=t&url=https://radioly.app
https://images.google.com.hk/url?sa=t&url=https://radioly.app
https://www.google.com.hk/url?sa=t&url=https://radioly.app
https://maps.google.com.hk/url?sa=t&url=https://radioly.app
https://www.google.com.au/url?sa=t&url=https://radioly.app
https://cse.google.com.au/url?sa=t&url=https://radioly.app
https://maps.google.com.au/url?sa=t&url=https://radioly.app
https://images.google.com.au/url?sa=t&url=https://radioly.app
https://www.google.nl/url?sa=t&url=https://radioly.app
https://cse.google.nl/url?sa=t&url=https://radioly.app
https://maps.google.co.in/url?sa=t&url=https://radioly.app
https://www.google.co.in/url?sa=t&url=https://radioly.app
https://cse.google.co.in/url?sa=t&url=https://radioly.app
https://cse.google.com.tw/url?sa=t&url=https://radioly.app
https://images.google.com.tw/url?sa=t&url=https://radioly.app
https://www.google.com.tw/url?sa=t&url=https://radioly.app
https://maps.google.com.tw/url?sa=t&url=https://radioly.app
https://maps.google.pl/url?sa=t&url=https://radioly.app
https://www.google.pl/url?sa=t&url=https://radioly.app
https://images.google.pl/url?sa=t&url=https://radioly.app
https://cse.google.pl/url?sa=t&url=https://radioly.app
https://cse.google.co.id/url?sa=t&url=https://radioly.app
https://maps.google.co.id/url?sa=t&url=https://radioly.app
https://images.google.co.id/url?sa=t&url=https://radioly.app
https://www.google.co.id/url?sa=t&url=https://radioly.app
https://cse.google.be/url?sa=t&url=https://radioly.app
https://images.google.be/url?sa=t&url=https://radioly.app
https://maps.google.be/url?sa=t&url=https://radioly.app
https://www.google.be/url?sa=t&url=https://radioly.app
https://ipv4.google.com/url?sa=t&url=https://radioly.app
https://images.google.com/url?sa=t&url=https://radioly.app
https://images.google.ch/url?sa=t&url=https://radioly.app
https://www.google.ch/url?sa=t&url=https://radioly.app
https://cse.google.ch/url?sa=t&url=https://radioly.app
https://maps.google.ch/url?sa=t&url=https://radioly.app
https://maps.google.co.th/url?sa=t&url=https://radioly.app
https://cse.google.co.th/url?sa=t&url=https://radioly.app
https://www.google.co.th/url?sa=t&url=https://radioly.app
https://images.google.com.ua/url?sa=t&url=https://radioly.app
https://cse.google.com.ua/url?sa=t&url=https://radioly.app
https://maps.google.com.ua/url?sa=t&url=https://radioly.app
https://www.google.com.ua/url?sa=t&url=https://radioly.app
https://maps.google.com.tr/url?sa=t&url=https://radioly.app
https://cse.google.com.tr/url?sa=t&url=https://radioly.app
https://images.google.at/url?sa=t&url=https://radioly.app
https://maps.google.at/url?sa=t&url=https://radioly.app
https://www.google.at/url?sa=t&url=https://radioly.app
https://cse.google.at/url?sa=t&url=https://radioly.app
https://images.google.cz/url?sa=t&url=https://radioly.app
https://www.google.cz/url?sa=t&url=https://radioly.app
https://maps.google.cz/url?sa=t&url=https://radioly.app
https://cse.google.cz/url?sa=t&url=https://radioly.app
https://www2.ogs.state.ny.us/help/urlstatusgo.html?url=https://radioly.app
https://cse.google.se/url?sa=t&url=https://radioly.app
https://maps.google.se/url?sa=t&url=https://radioly.app
https://www.google.se/url?sa=t&url=https://radioly.app
https://images.google.se/url?sa=t&url=https://radioly.app
https://cse.google.com.mx/url?sa=t&url=https://radioly.app
https://www.google.com.mx/url?sa=t&url=https://radioly.app
https://www.google.fi/url?sa=t&url=https://radioly.app
https://cse.google.fi/url?sa=t&url=https://radioly.app
https://cse.google.co.nz/url?sa=t&url=https://radioly.app
https://images.google.co.nz/url?sa=t&url=https://radioly.app
https://www.google.co.nz/url?sa=t&url=https://radioly.app
https://cse.google.com.vn/url?sa=t&url=https://radioly.app
https://www.google.com.vn/url?sa=t&url=https://radioly.app
https://www.google.pt/url?sa=t&url=https://radioly.app
https://cse.google.pt/url?sa=t&url=https://radioly.app
https://cse.google.ro/url?sa=t&url=https://radioly.app
https://maps.google.ro/url?sa=t&url=https://radioly.app
https://www.google.ro/url?sa=t&url=https://radioly.app
https://images.google.ro/url?sa=t&url=https://radioly.app
https://images.google.com.my/url?sa=t&url=https://radioly.app
https://maps.google.com.my/url?sa=t&url=https://radioly.app
https://www.google.com.my/url?sa=t&url=https://radioly.app
https://cse.google.com.my/url?sa=t&url=https://radioly.app
https://www.google.co.za/url?sa=t&url=https://radioly.app
https://cse.google.co.za/url?sa=t&url=https://radioly.app
https://www.google.com.sg/url?sa=t&url=https://radioly.app
https://cse.google.com.sg/url?sa=t&url=https://radioly.app
https://www.google.ie/url?sa=t&url=https://radioly.app
https://cse.google.ie/url?sa=t&url=https://radioly.app
https://images.google.ie/url?sa=t&url=https://radioly.app
https://cse.google.co.kr/url?sa=t&url=https://radioly.app
https://maps.google.co.kr/url?sa=t&url=https://radioly.app
https://www.google.co.kr/url?sa=t&url=https://radioly.app
https://images.google.co.kr/url?sa=t&url=https://radioly.app
https://images.google.gr/url?sa=t&url=https://radioly.app
https://cse.google.gr/url?sa=t&url=https://radioly.app
https://maps.google.gr/url?sa=t&url=https://radioly.app
https://www.google.gr/url?sa=t&url=https://radioly.app
https://cse.google.dk/url?sa=t&url=https://radioly.app
https://www.google.dk/url?sa=t&url=https://radioly.app
https://cse.google.hu/url?sa=t&url=https://radioly.app
https://www.google.hu/url?sa=t&url=https://radioly.app
https://maps.google.hu/url?sa=t&url=https://radioly.app
https://images.google.hu/url?sa=t&url=https://radioly.app
https://www.google.com.ar/url?sa=t&url=https://radioly.app
https://cse.google.com.ar/url?sa=t&url=https://radioly.app
https://maps.google.com.ar/url?sa=t&url=https://radioly.app
https://images.google.com.ar/url?sa=t&url=https://radioly.app
https://cse.google.com.ph/url?sa=t&url=https://radioly.app
https://maps.google.com.ph/url?sa=t&url=https://radioly.app
https://www.google.com.ph/url?sa=t&url=https://radioly.app
https://images.google.com.ph/url?sa=t&url=https://radioly.app
https://maps.google.no/url?sa=t&url=https://radioly.app
https://cse.google.no/url?sa=t&url=https://radioly.app
https://www.google.no/url?sa=t&url=https://radioly.app
https://images.google.no/url?sa=t&url=https://radioly.app
https://www.google.co.il/url?sa=t&url=https://radioly.app
https://cse.google.co.il/url?sa=t&url=https://radioly.app
https://www.google.bg/url?sa=t&url=https://radioly.app
https://cse.google.bg/url?sa=t&url=https://radioly.app
https://maps.google.bg/url?sa=t&url=https://radioly.app
https://www.google.cl/url?sa=t&url=https://radioly.app
https://maps.google.cl/url?sa=t&url=https://radioly.app
https://cse.google.cl/url?sa=t&url=https://radioly.app
https://images.google.com.co/url?sa=t&url=https://radioly.app
https://maps.google.com.co/url?sa=t&url=https://radioly.app
https://www.google.com.co/url?sa=t&url=https://radioly.app
https://cse.google.com.co/url?sa=t&url=https://radioly.app
https://www.google.sk/url?sa=t&url=https://radioly.app
https://cse.google.sk/url?sa=t&url=https://radioly.app
https://maps.google.sk/url?sa=t&url=https://radioly.app
https://images.google.sk/url?sa=t&url=https://radioly.app
https://images.google.lt/url?sa=t&url=https://radioly.app
https://www.google.lt/url?sa=t&url=https://radioly.app
https://maps.google.lt/url?sa=t&url=https://radioly.app
https://cse.google.lt/url?sa=t&url=https://radioly.app
https://images.google.com.sa/url?sa=t&url=https://radioly.app
https://maps.google.com.sa/url?sa=t&url=https://radioly.app
https://cse.google.com.sa/url?sa=t&url=https://radioly.app
https://www.google.com.sa/url?sa=t&url=https://radioly.app
https://images.google.hr/url?sa=t&url=https://radioly.app
https://www.google.hr/url?sa=t&url=https://radioly.app
https://maps.google.hr/url?sa=t&url=https://radioly.app
https://cse.google.hr/url?sa=t&url=https://radioly.app
https://cse.google.com.pe/url?sa=t&url=https://radioly.app
https://images.google.com.pe/url?sa=t&url=https://radioly.app
https://maps.google.com.pe/url?sa=t&url=https://radioly.app
https://www.google.com.pe/url?sa=t&url=https://radioly.app
https://maps.google.lv/url?sa=t&url=https://radioly.app
https://www.google.lv/url?sa=t&url=https://radioly.app
https://images.google.lv/url?sa=t&url=https://radioly.app
https://cse.google.lv/url?sa=t&url=https://radioly.app
https://maps.google.ae/url?sa=t&url=https://radioly.app
https://images.google.ae/url?sa=t&url=https://radioly.app
https://cse.google.ae/url?sa=t&url=https://radioly.app
https://www.google.ae/url?sa=t&url=https://radioly.app
https://www.google.co.ve/url?sa=t&url=https://radioly.app
https://maps.google.co.ve/url?sa=t&url=https://radioly.app
https://cse.google.co.ve/url?sa=t&url=https://radioly.app
https://images.google.co.ve/url?sa=t&url=https://radioly.app
https://www.google.ee/url?sa=t&url=https://radioly.app
https://cse.google.ee/url?sa=t&url=https://radioly.app
https://maps.google.ee/url?sa=t&url=https://radioly.app
https://images.google.ee/url?sa=t&url=https://radioly.app
https://www.google.com.pk/url?sa=t&url=https://radioly.app
https://images.google.com.pk/url?sa=t&url=https://radioly.app
https://cse.google.com.pk/url?sa=t&url=https://radioly.app
https://cse.google.rs/url?sa=t&url=https://radioly.app
https://www.google.rs/url?sa=t&url=https://radioly.app
https://maps.google.rs/url?sa=t&url=https://radioly.app
https://images.google.rs/url?sa=t&url=https://radioly.app
https://www.google.com.eg/url?sa=t&url=https://radioly.app
https://cse.google.com.eg/url?sa=t&url=https://radioly.app
https://maps.google.com.eg/url?sa=t&url=https://radioly.app
https://images.google.com.eg/url?sa=t&url=https://radioly.app
https://www.google.si/url?sa=t&url=https://radioly.app
https://maps.google.si/url?sa=t&url=https://radioly.app
https://images.google.si/url?sa=t&url=https://radioly.app
https://cse.google.si/url?sa=t&url=https://radioly.app
https://cse.google.com/url?sa=t&url=https://radioly.app
https://images.google.com.ec/url?sa=t&url=https://radioly.app
https://www.google.com.ec/url?sa=t&url=https://radioly.app
https://maps.google.com.ec/url?sa=t&url=https://radioly.app
https://cse.google.com.ec/url?sa=t&url=https://radioly.app
https://images.google.com.pr/url?sa=t&url=https://radioly.app
https://cse.google.com.pr/url?sa=t&url=https://radioly.app
https://maps.google.com.pr/url?sa=t&url=https://radioly.app
https://www.google.com.pr/url?sa=t&url=https://radioly.app
https://images.google.com.gt/url?sa=t&url=https://radioly.app
https://cse.google.com.gt/url?sa=t&url=https://radioly.app
https://www.google.com.gt/url?sa=t&url=https://radioly.app
https://maps.google.com.gt/url?sa=t&url=https://radioly.app
https://images.google.co.cr/url?sa=t&url=https://radioly.app
https://www.google.co.cr/url?sa=t&url=https://radioly.app
https://cse.google.co.cr/url?sa=t&url=https://radioly.app
https://maps.google.co.cr/url?sa=t&url=https://radioly.app
https://cse.google.com.uy/url?sa=t&url=https://radioly.app
https://www.google.com.uy/url?sa=t&url=https://radioly.app
https://images.google.com.uy/url?sa=t&url=https://radioly.app
https://maps.google.com.uy/url?sa=t&url=https://radioly.app
https://cse.google.lu/url?sa=t&url=https://radioly.app
https://maps.google.lu/url?sa=t&url=https://radioly.app
https://images.google.lu/url?sa=t&url=https://radioly.app
https://www.google.lu/url?sa=t&url=https://radioly.app
https://images.google.ba/url?sa=t&url=https://radioly.app
https://maps.google.ba/url?sa=t&url=https://radioly.app
https://www.google.ba/url?sa=t&url=https://radioly.app
https://cse.google.ba/url?sa=t&url=https://radioly.app
https://cse.google.is/url?sa=t&url=https://radioly.app
https://www.google.is/url?sa=t&url=https://radioly.app
https://images.google.is/url?sa=t&url=https://radioly.app
https://maps.google.is/url?sa=t&url=https://radioly.app
https://maps.google.co.ke/url?sa=t&url=https://radioly.app
https://www.google.co.ke/url?sa=t&url=https://radioly.app
https://images.google.co.ke/url?sa=t&url=https://radioly.app
https://cse.google.co.ke/url?sa=t&url=https://radioly.app
https://images.google.tn/url?sa=t&url=https://radioly.app
https://www.google.tn/url?sa=t&url=https://radioly.app
https://maps.google.tn/url?sa=t&url=https://radioly.app
https://cse.google.tn/url?sa=t&url=https://radioly.app
https://support-content-staging.sandbox.google.com.ng/url?sa=t&url=https://radioly.app
https://layers.sandbox.google.com.ng/url?sa=t&url=https://radioly.app
https://prom-gfe-nightly.sandbox.google.com.ng/url?sa=t&url=https://radioly.app
https://www.google.com.ng/url?sa=t&url=https://radioly.app
https://cse.google.com.ng/url?sa=t&url=https://radioly.app
https://images.google.com.ng/url?sa=t&url=https://radioly.app
https://maps.google.com.ng/url?sa=t&url=https://radioly.app
https://plus.sandbox.google.com.ng/url?sa=t&url=https://radioly.app
https://sky-lego.sandbox.google.com.ng/url?sa=t&url=https://radioly.app
https://cse.google.com.np/url?sa=t&url=https://radioly.app
https://maps.google.com.np/url?sa=t&url=https://radioly.app
https://images.google.com.np/url?sa=t&url=https://radioly.app
https://www.google.com.np/url?sa=t&url=https://radioly.app
https://cse.google.com.mt/url?sa=t&url=https://radioly.app
https://www.google.com.mt/url?sa=t&url=https://radioly.app
https://images.google.com.mt/url?sa=t&url=https://radioly.app
https://maps.google.com.mt/url?sa=t&url=https://radioly.app
https://images.google.by/url?sa=t&url=https://radioly.app
https://www.google.by/url?sa=t&url=https://radioly.app
https://cse.google.by/url?sa=t&url=https://radioly.app
https://maps.google.by/url?sa=t&url=https://radioly.app
https://cse.google.com.bd/url?sa=t&url=https://radioly.app
https://maps.google.com.bd/url?sa=t&url=https://radioly.app
https://www.google.com.bd/url?sa=t&url=https://radioly.app
https://images.google.com.bd/url?sa=t&url=https://radioly.app
https://images.google.com.do/url?sa=t&url=https://radioly.app
https://maps.google.com.do/url?sa=t&url=https://radioly.app
https://cse.google.com.do/url?sa=t&url=https://radioly.app
https://www.google.com.do/url?sa=t&url=https://radioly.app
https://maps.google.kz/url?sa=t&url=https://radioly.app
https://www.google.kz/url?sa=t&url=https://radioly.app
https://cse.google.kz/url?sa=t&url=https://radioly.app
https://images.google.kz/url?sa=t&url=https://radioly.app
https://www.google.co.ma/url?sa=t&url=https://radioly.app
https://cse.google.co.ma/url?sa=t&url=https://radioly.app
https://images.google.co.ma/url?sa=t&url=https://radioly.app
https://images.google.jo/url?sa=t&url=https://radioly.app
https://cse.google.jo/url?sa=t&url=https://radioly.app
https://maps.google.jo/url?sa=t&url=https://radioly.app
https://www.google.jo/url?sa=t&url=https://radioly.app
https://cse.google.lk/url?sa=t&url=https://radioly.app
https://maps.google.lk/url?sa=t&url=https://radioly.app
https://www.google.lk/url?sa=t&url=https://radioly.app
https://images.google.lk/url?sa=t&url=https://radioly.app
https://cse.google.com.cu/url?sa=t&url=https://radioly.app
https://images.google.com.cu/url?sa=t&url=https://radioly.app
https://www.google.com.cu/url?sa=t&url=https://radioly.app
https://maps.google.com.cu/url?sa=t&url=https://radioly.app
https://maps.google.com.ni/url?sa=t&url=https://radioly.app
https://cse.google.com.ni/url?sa=t&url=https://radioly.app
https://www.google.com.ni/url?sa=t&url=https://radioly.app
https://images.google.com.ni/url?sa=t&url=https://radioly.app
https://maps.google.com.jm/url?sa=t&url=https://radioly.app
https://www.google.com.jm/url?sa=t&url=https://radioly.app
https://cse.google.com.jm/url?sa=t&url=https://radioly.app
https://images.google.com.jm/url?sa=t&url=https://radioly.app
https://images.google.com.qa/url?sa=t&url=https://radioly.app
https://maps.google.com.qa/url?sa=t&url=https://radioly.app
https://www.google.com.qa/url?sa=t&url=https://radioly.app
https://cse.google.com.qa/url?sa=t&url=https://radioly.app
https://www.google.com.sv/url?sa=t&url=https://radioly.app
https://cse.google.com.sv/url?sa=t&url=https://radioly.app
https://images.google.com.sv/url?sa=t&url=https://radioly.app
https://maps.google.com.sv/url?sa=t&url=https://radioly.app
https://cse.google.ps/url?sa=t&url=https://radioly.app
https://www.google.ps/url?sa=t&url=https://radioly.app
https://images.google.ps/url?sa=t&url=https://radioly.app
https://images.google.com.bo/url?sa=t&url=https://radioly.app
https://maps.google.com.bo/url?sa=t&url=https://radioly.app
https://www.google.com.bo/url?sa=t&url=https://radioly.app
https://cse.google.com.bo/url?sa=t&url=https://radioly.app
https://maps.google.mu/url?sa=t&url=https://radioly.app
https://cse.google.mu/url?sa=t&url=https://radioly.app
https://images.google.mu/url?sa=t&url=https://radioly.app
https://www.google.mu/url?sa=t&url=https://radioly.app
https://images.google.co.bw/url?sa=t&url=https://radioly.app
https://www.google.co.bw/url?sa=t&url=https://radioly.app
https://maps.google.co.bw/url?sa=t&url=https://radioly.app
https://cse.google.co.bw/url?sa=t&url=https://radioly.app
https://www.google.li/url?sa=t&url=https://radioly.app
https://cse.google.li/url?sa=t&url=https://radioly.app
https://maps.google.li/url?sa=t&url=https://radioly.app
https://images.google.li/url?sa=t&url=https://radioly.app
https://www.google.com.af/url?sa=t&url=https://radioly.app
https://images.google.com.af/url?sa=t&url=https://radioly.app
https://cse.google.com.af/url?sa=t&url=https://radioly.app
https://cse.google.com.kh/url?sa=t&url=https://radioly.app
https://images.google.com.kh/url?sa=t&url=https://radioly.app
https://www.google.com.kh/url?sa=t&url=https://radioly.app
https://maps.google.com.kh/url?sa=t&url=https://radioly.app
https://images.google.com.kw/url?sa=t&url=https://radioly.app
https://maps.google.com.kw/url?sa=t&url=https://radioly.app
https://www.google.com.kw/url?sa=t&url=https://radioly.app
https://cse.google.com.kw/url?sa=t&url=https://radioly.app
https://cse.google.com.lb/url?sa=t&url=https://radioly.app
https://maps.google.com.lb/url?sa=t&url=https://radioly.app
https://www.google.com.lb/url?sa=t&url=https://radioly.app
https://images.google.com.lb/url?sa=t&url=https://radioly.app
https://cse.google.tt/url?sa=t&url=https://radioly.app
https://www.google.tt/url?sa=t&url=https://radioly.app
https://images.google.tt/url?sa=t&url=https://radioly.app
https://maps.google.tt/url?sa=t&url=https://radioly.app
https://www.google.dz/url?sa=t&url=https://radioly.app
https://cse.google.dz/url?sa=t&url=https://radioly.app
https://maps.google.dz/url?sa=t&url=https://radioly.app
https://images.google.dz/url?sa=t&url=https://radioly.app
https://cse.google.hn/url?sa=t&url=https://radioly.app
https://maps.google.hn/url?sa=t&url=https://radioly.app
https://images.google.hn/url?sa=t&url=https://radioly.app
https://www.google.hn/url?sa=t&url=https://radioly.app
https://cse.google.kg/url?sa=t&url=https://radioly.app
https://images.google.kg/url?sa=t&url=https://radioly.app
https://foro.infojardin.com/proxy.php?link=https://radioly.app
https://maps.google.com.py/url?sa=t&url=https://radioly.app
https://www.google.com.py/url?sa=t&url=https://radioly.app
https://images.google.com.py/url?sa=t&url=https://radioly.app
https://cse.google.com.py/url?sa=t&url=https://radioly.app
https://www.talgov.com/Main/exit.aspx?url=https://radioly.app
https://www.google.sn/url?sa=t&url=https://radioly.app
https://maps.google.sn/url?sa=t&url=https://radioly.app
https://cse.google.sn/url?sa=t&url=https://radioly.app
https://images.google.sn/url?sa=t&url=https://radioly.app
https://maps.google.iq/url?sa=t&url=https://radioly.app
https://www.google.iq/url?sa=t&url=https://radioly.app
https://cse.google.iq/url?sa=t&url=https://radioly.app
https://images.google.iq/url?sa=t&url=https://radioly.app
https://maps.google.co.ug/url?sa=t&url=https://radioly.app
https://www.google.co.ug/url?sa=t&url=https://radioly.app
https://cse.google.co.ug/url?sa=t&url=https://radioly.app
https://images.google.co.ug/url?sa=t&url=https://radioly.app
https://maps.google.com.na/url?sa=t&url=https://radioly.app
https://images.google.com.na/url?sa=t&url=https://radioly.app
https://cse.google.com.na/url?sa=t&url=https://radioly.app
https://www.google.com.na/url?sa=t&url=https://radioly.app
https://www.google.as/url?sa=t&url=https://radioly.app
https://cse.google.as/url?sa=t&url=https://radioly.app
https://images.google.as/url?sa=t&url=https://radioly.app
https://maps.google.as/url?sa=t&url=https://radioly.app
https://cse.google.ge/url?sa=t&url=https://radioly.app
https://maps.google.ge/url?sa=t&url=https://radioly.app
https://images.google.ge/url?sa=t&url=https://radioly.app
https://www.google.ge/url?sa=t&url=https://radioly.app
https://cse.google.ad/url?sa=t&url=https://radioly.app
https://maps.google.ad/url?sa=t&url=https://radioly.app
https://images.google.ad/url?sa=t&url=https://radioly.app
https://www.google.ad/url?sa=t&url=https://radioly.app
https://www.google.com.gh/url?sa=t&url=https://radioly.app
https://images.google.com.gh/url?sa=t&url=https://radioly.app
https://maps.google.com.gh/url?sa=t&url=https://radioly.app
https://cse.google.com.gh/url?sa=t&url=https://radioly.app
https://images.google.cat/url?sa=t&url=https://radioly.app
https://maps.google.cat/url?sa=t&url=https://radioly.app
https://cse.google.cat/url?sa=t&url=https://radioly.app
https://www.google.cat/url?sa=t&url=https://radioly.app
https://posts.google.com/url?sa=t&url=https://radioly.app
https://blogs.rtve.es/libs/getfirma_footer_prod.php?blogurl=https://radioly.app
https://client.paltalk.com/client/webapp/client/External.wmt?url=https://radioly.app
https://feeds.hanselman.com/%7E/t/0/0/scotthanselman/%7Eradioly.app%2F/
https://anonym.to/?https://radioly.app
https://hobby.idnes.cz/peruanske-palive-papricky-rocoto-dlz-/redir.aspx?url=https://radioly.app
https://www.curseforge.com/linkout?remoteurl=https://radioly.app
https://wfc2.wiredforchange.com/dia/track.jsp?v=2&c=hdorrh%2BHcDlQ%2BzUEnZU5qlfKZ1Cl53X6&url=https://radioly.app
https://www.youtube.com/redirect?q=https://radioly.app
https://m.odnoklassniki.ru/dk?st.cmd=outLinkWarning&st.rfn=https://radioly.app
https://dol.deliver.ifeng.com/c?z=ifeng&la=0&si=2&cg=1&c=1&ci=2&or=7549&l=28704&bg=28703&b=37275&u=https://radioly.app
http://advisor.wmtransfer.com/SiteDetails.aspx?url=https://radioly.app
http://advisor.wmtransfer.com/SiteDetails.aspx?url=https://radioly.app
http://alexaview.com/process.php?q=https://radioly.app&t=keto
http://alexaview.com/process.php?q=http://radioly.app&t=keto
http://apps.sos.ky.gov/land/cities/linkto.asp?link=https://radioly.app
http://apps.sos.ky.gov/land/cities/linkto.asp?link=https://radioly.app
http://apps.sos.ky.gov/land/cities/linkto.asp?link=http://radioly.app
http://archive.is/radioly.app
http://asia.google.com/url?q=https://radioly.app
http://balinter.net/redirect/banner.php?redir=https://radioly.app
http://balinter.net/redirect/banner.php?redir=http://radioly.app
http://balinter.net/redirect/banner.php?redir=radioly.app
http://clients1.google.co.uk/url?q=https://radioly.app
http://clients1.google.com/url?q=https://radioly.app
http://clients1.google.de/url?q=https://radioly.app
http://clients1.google.de/url?q=https://radioly.app
http://cowbell.cancan.cshl.edu/dispatch.cgi/show_file?example=SimpleForm&url=https://radioly.app
http://cowbell.cancan.cshl.edu/dispatch.cgi/show_file?example=SimpleForm&url=https://radioly.app
http://eba-www.yokohama-cu.ac.jp/~kook/cgi-bin/seminar/index.php?cvbngdfsgs
http://eba-www.yokohama-cu.ac.jp/~kook/cgi-bin/seminar/index.php?fsdddddddddd
http://eba-www.yokohama-cu.ac.jp/~kook/cgi-bin/seminar/index.php?gfereyt
http://eba-www.yokohama-cu.ac.jp/~kook/cgi-bin/seminar/index.php?sssas
http://epp.phys.kyushu-u.ac.jp/~oda/puki/index.php?hfgdxv
http://epp.phys.kyushu-u.ac.jp/~oda/puki/index.php?jghjghjh
http://epp.phys.kyushu-u.ac.jp/~oda/puki/index.php?trfgjfgj
http://funmovies.com/media/js/netsoltrademark.php?d=https://radioly.app
http://funmovies.com/media/js/netsoltrademark.php?d=http://radioly.app
http://funmovies.com/media/js/netsoltrademark.php?d=radioly.app
http://georgewbushlibrary.smu.edu/exit.aspx?url=https://radioly.app
http://georgewbushlibrary.smu.edu/exit.aspx?url=https://radioly.app
http://georgewbushlibrary.smu.edu/exit.aspx?url=https://radioly.app
http://help.dedecms.com/plus/player/index.php?url=https://radioly.app
http://hosts-file.net/default.asp?s=https://radioly.app
http://hosts-file.net/default.asp?s=http://radioly.app
http://hqindex.org/radioly.app
http://ikraa.academy/search?q=https://radioly.app&sa=Search
http://ikraa.academy/search?q=http://radioly.app&sa=Search
http://images.google.co.uk/url?q=https://radioly.app
http://images.google.de/url?q=https://radioly.app
http://images.google.de/url?sa=t&url=https://radioly.app
http://israblog.nana10.co.il/mobile/versionselector.asp?moburl=https://radioly.app
http://jump.2ch.net/?radioly.app
http://k-pool.pupu.jp/wiki/index.php?bnmfghd
http://k-pool.pupu.jp/wiki/index.php?dffffffffff
http://k-pool.pupu.jp/wiki/index.php?fgjnvm
http://kada.gov.my/en/arkib-berita-2013/-/asset_publisher/T3Ei/content/ppk-sungai-ketereh-lancar-prodyaagneshwaran-serunding-daging-1?redirect=https://radioly.app
http://kada.gov.my/en/arkib-berita-2013/-/asset_publisher/T3Ei/content/ppk-sungai-ketereh-lancar-prodyaagneshwaran-serunding-daging-1?redirect=http://radioly.app
http://libraries.ucsd.edu/cgi-bin/redir?resource=822&location=https://radioly.app
http://libraries.ucsd.edu/cgi-bin/redir?resource=822&location=http://radioly.app
http://link.harikonotora.net/?http://radioly.app
http://lodserver.iula.upf.edu/describe/?url=https://radioly.app
http://lodserver.iula.upf.edu/describe/?url=https://radioly.app
http://m.odnoklassniki.ru/dk?st.cmd=outLinkWarning&st.rfn=https://radioly.app
http://m.odnoklassniki.ru/dk?st.cmd=outLinkWarning&st.rfn=http://radioly.app
http://m.odnoklassniki.ru/dk?st.cmd=outLinkWarning&st.rfn=https://radioly.app
http://m.ok.ru/dk?st.cmd=outLinkWarning&st.rfn=https://radioly.app
http://m.ok.ru/dk?st.cmd=outLinkWarning&st.rfn=https://radioly.app
http://maps.google.co.jp/url?q=https://radioly.app
http://maps.google.co.jp/url?sa=t&url=https://radioly.app
http://maps.google.co.uk/url?q=https://radioly.app
http://maps.google.com/url?q=https://radioly.app
http://maps.google.com/url?sa=t&url=https://radioly.app
http://maps.google.de/url?q=https://radioly.app
http://maps.google.de/url?q=https://radioly.app
http://maps.google.de/url?sa=t&url=https://radioly.app
http://mc-dqm4.xii.jp/index.php?fdhbnc
http://radioly.app.statscrop.com/
http://onlinemanuals.txdot.gov/help/urlstatusgo.html?url=https://radioly.app
http://onlinemanuals.txdot.gov/help/urlstatusgo.html?url=https://radioly.app
http://ossokolje.edu.ba/gbook/go.php?url=https://radioly.app
http://ossokolje.edu.ba/gbook/go.php?url=https://radioly.app
http://owohho.com/away?url=https://radioly.app
http://owohho.com/away?url=https://radioly.app
http://php.ccps.tp.edu.tw/uchome/link.php?url=https://radioly.app
http://php.ccps.tp.edu.tw/uchome/link.php?url=https://radioly.app
http://pr-cy.su/tools/analysis/http:/radioly.app
http://pr-cy.su/tools/analysis/radioly.app
http://ranking.crawler.com/Siteketo.aspx?url=https://radioly.app
http://ranking.crawler.com/Siteketo.aspx?url=https://radioly.app
http://ranking.websearch.com/siteketo.aspx?url=https://radioly.app
http://ranking.websearch.com/siteketo.aspx?url=https://radioly.app
http://register.scotland.org/Subscribe/WidgetSignup?url=https://radioly.app
http://sc.devb.gov.hk/TuniS/radioly.app
http://sc.hkeaa.edu.hk/TuniS/radioly.app
http://sc.hkex.com.hk/TuniS/http:/radioly.app
http://sc.hkexnews.hk/TuniS/http:/radioly.app
http://sc.hkexnews.hk/TuniS/radioly.app
http://sc.sie.gov.hk/TuniS/http:/radioly.app
http://sc.sie.gov.hk/TuniS/radioly.app
http://sc.youth.gov.hk/TuniS/radioly.app
http://scamanalyze.com/check/radioly.app
http://script3.prothemes.biz/radioly.app
http://search.wi.gov/cs.html?url=https://radioly.app
http://search.wi.gov/cs.html?url=https://radioly.app
http://search.wi.gov/cs.html?url=https://radioly.app
http://siteanalytics.compete.com/radioly.app
http://siteranker.com/Siteketo.aspx?url=https://radioly.app
http://siteranker.com/Siteketo.aspx?url=https://radioly.app
http://sitevaluefox.com/website-value-calculator/show.php?url=https://radioly.app
http://sitevaluefox.com/website-value-calculator/show.php?url=https://radioly.app
http://t.me/iv?url=https://radioly.app
http://t.me/iv?url=https://radioly.app
http://text.usg.edu/tt/radioly.app
http://tokiminori.under.jp/miyagi_anison/index.php?bnfhdf
http://tokiminori.under.jp/miyagi_anison/index.php?erjgj
http://tokiminori.under.jp/miyagi_anison/index.php?qweqwasdada
http://tokiminori.under.jp/miyagi_anison/index.php?werrrrrrrrrrr
http://toolbarqueries.google.co.uk/url?q=https://radioly.app
http://toolbarqueries.google.co.uk/url?q=https://radioly.app
http://toolbarqueries.google.de/url?q=https://radioly.app
http://toolbarqueries.google.de/url?q=https://radioly.app
http://wasearch.loc.gov/e2k//https://radioly.app/
http://web.archive.org/web/20190629044551/https:/radioly.app
http://web.horde.to/radioly.app
http://well2net.com/media/js/netsoltrademark.php?d=https://radioly.app
http://well2net.com/media/js/netsoltrademark.php?d=http://radioly.app
http://well2net.com/media/js/netsoltrademark.php?d=radioly.app
http://whois.domaintools.com/radioly.app
http://whois.phurix.co.yaagneshwaran/radioly.app
http://whois.tools4noobs.com/keto/radioly.app
http://wikimapia.org/external_link?url=https://radioly.app
http://wikimapia.org/external_link?url=https://radioly.app
http://wizards.com/leaving.asp?url=https://radioly.app
http://www.astro.wisc.edu/?url=https://radioly.app
http://www.boardhost.com/url?q=https://radioly.app
http://www.boardhost.com/url?q=http://radioly.app
http://www.bshare.cn/share?url=https://radioly.app
http://www.domainwhoisradioly.app/radioly.app
http://www.drugoffice.gov.hk/gb/unigb/https:/radioly.app
http://www.drugoffice.gov.hk/gb/unigb/radioly.app
http://www.elocallink.tv/clients2/nj/wildwoods/biz/biz_vp2.php?movie=11&website=http://radioly.app
http://www.folkd.com/detail/radioly.app
http://www.google.co.uk/url?sa=t&url=https://radioly.app
http://www.google.com/url?q=https://radioly.app
http://www.google.com/url?sa=t&url=https://radioly.app
http://www.google.de/url?sa=t&url=https://radioly.app
http://www.google.es/url?q=https://radioly.app
http://www.google.fr/url?q=https://radioly.app
http://www.hudson.edu/frames.php?school=hcsd&url=https://radioly.app
http://www.hudson.edu/frames.php?school=hcsd&url=https://radioly.app
http://www.hudson.edu/frames.php?school=hcsd&url=radioly.app
http://www.i2i.jp/linkdego.php?url=https://radioly.app
http://www.ketositeshow.com/in-link/radioly.app
http://www.keywordspy.com/research/search.aspx?q=https://radioly.app&tab=domain-overview
http://www.keywordspy.com/research/search.aspx?q=http://radioly.app&tab=domain-overview
http://www.ladan.com.ua/link/go.php?url=https://radioly.app
http://www.ladan.com.ua/link/go.php?url=https://radioly.app
http://www.littlesamaritan.net/media/js/netsoltrademark.php?d=https://radioly.app
http://www.littlesamaritan.net/media/js/netsoltrademark.php?d=http://radioly.app
http://www.littlesamaritan.net/media/js/netsoltrademark.php?d=radioly.app
http://www.mcdaniel.edu/index?URL=radioly.app
http://www.my-retail-store.com/media/js/netsoltrademark.php?d=https://radioly.app
http://www.my-retail-store.com/media/js/netsoltrademark.php?d=http://radioly.app
http://www.my-retail-store.com/media/js/netsoltrademark.php?d=radioly.app
http://www.nccu.edu/leaving.cfm?destination=https://radioly.app
http://www.nccu.edu/leaving.cfm?destination=http://radioly.app
http://www.ossokolje.edu.ba/gbook/go.php?url=https://radioly.app
http://www.ossokolje.edu.ba/gbook/go.php?url=https://radioly.app
http://www.pillole.org/public/aspnyaagneshwarane/gotoURL.asp?url=https://radioly.app
http://www.pillole.org/public/aspnyaagneshwarane/gotoURL.asp?url=https://radioly.app
http://www.ric.edu/Pages/link_out.aspx?target=https://radioly.app
http://www.ric.edu/Pages/link_out.aspx?target=https://radioly.app
http://www.ric.edu/Pages/link_out.aspx?target=http://radioly.app
http://www.serpanalytics.com/sites/radioly.app
http://www.shinobi.jp/etc/goto.html?http://radioly.app
http://www.siteranker.com/TrankTrend.aspx?url=https://radioly.app
http://www.siteranker.com/TrankTrend.aspx?url=https://radioly.app
http://www.tc.faa.gov/content/leaving.asp?extlink=https://radioly.app
http://www.tc.faa.gov/content/leaving.asp?extlink=http://radioly.app
http://www.ultimate-rihanna.com/?url=https://radioly.app
http://www.ultimate-rihanna.com/?url=https://radioly.app
http://www.unmaskparasites.com/web-page-options/?url=https://radioly.app
http://www.viewwhois.com/radioly.app
http://www.webclap.com/php/jump.php?url=https://radioly.app
http://www.webclap.com/php/jump.php?url=https://radioly.app
http://www.websitedown.keto/radioly.app
http://www2.ogs.state.ny.us/help/urlstatusgo.html?url=https://radioly.app
http://www2.ogs.state.ny.us/help/urlstatusgo.html?url=https://radioly.app
https://a.pr-cy.ru/radioly.app
https://aastocks.com/sc/changelang.aspx?lang=sc&url=https://radioly.app
https://aastocks.com/sc/changelang.aspx?lang=sc&url=https://radioly.app
https://advisor.wmtransfer.com/SiteDetails.aspx?url=https://radioly.app
https://affiliates.bookdepository.com/scripts/click.php?a_aid=Alexa1202&a_bid=9abb5269&desturl=https://radioly.app
https://affiliates.bookdepository.com/scripts/click.php?a_aid=Alexa1202&a_bid=9abb5269&desturl=https://radioly.app
https://affiliates.bookdepository.com/scripts/click.php?a_aid=Alexa1202&a_bid=9abb5269&desturl=https://radioly.app
https://affiliates.bookdepository.com/scripts/click.php?a_aid=Alexa1202&a_bid=9abb5269&desturl=https://radioly.app
https://affiliates.bookdepository.com/scripts/click.php?a_aid=Alexa1202&a_bid=9abb5269&desturl=https://radioly.app
https://anonym.to/?https://radioly.app
https://assistive.cf.edu/h5/assistive/outgoing?fullurl=https://radioly.app
https://assistive.cf.edu/h5/assistive/outgoing?fullurl=https://radioly.app
https://baoviet.com.vn/Redirect.aspx?url=https://radioly.app
https://baoviet.com.vn/Redirect.aspx?url=https://radioly.app
https://bing.com/news/apiclick.aspx?ref=FexRss&aid=&tid=9BB77FDA801248A5AD23FDBDD5922800&url=https://radioly.app
https://bing.com/news/apiclick.aspx?ref=FexRss&aid=&tid=9BB77FDA801248A5AD23FDBDD5922800&url=https://radioly.app
https://blog.ss-blog.jp/pages/mobile/step/index?u=http://radioly.app
https://blogs.rtve.es/libs/getfirma_footer_prod.php?blogurl=https://radioly.app
https://blogs.rtve.es/libs/getfirma_footer_prod.php?blogurl=https://radioly.app
https://blogs.rtve.es/libs/getfirma_footer_prod.php?blogurl=https://radioly.app
https://blogs.rtve.es/libs/getfirma_footer_prod.php?blogurl=https://radioly.app
https://builtwith.com/radioly.app
https://bukkit.org/proxy.php?link=https://radioly.app
https://bukkit.org/proxy.php?link=https://radioly.app
https://bukkit.org/proxy.php?link=http://radioly.app
https://bukkit.org/proxy.php?link=https://radioly.app
https://bukkit.org/proxy.php?link=https://radioly.app
https://busy.org/exit?url=https://radioly.app
https://client.palradioly.app/client/webapp/client/External.wmt?url=https://radioly.app
https://client.palradioly.app/client/webapp/client/External.wmt?url=https://radioly.app
https://client.palradioly.app/client/webapp/client/External.wmt?url=https://radioly.app
https://client.palradioly.app/client/webapp/client/External.wmt?url=https://radioly.app
https://club.panasonic.jp/member/terms/?siteId=B1&returnurl=https://radioly.app
https://club.panasonic.jp/member/terms/?siteId=B1&returnurl=https://radioly.app
https://club.panasonic.jp/member/terms/?siteId=B1&returnurl=https://radioly.app
https://clubs.london.edu/click?r=https://radioly.app
https://clubs.london.edu/click?r=http://radioly.app
https://clubs.london.edu/click?uid=24ce7c96-76b4-11e6-8631-0050569d64d5&r=https://radioly.app
https://clubs.london.edu/click?uid=24ce7c96-76b4-11e6-8631-0050569d64d5&r=http://radioly.app
https://community.cypress.com/external-link.jspa?url=https://radioly.app
https://community.cypress.com/external-link.jspa?url=https://radioly.app
https://community.cypress.com/external-link.jspa?url=https://radioly.app
https://community.cypress.com/external-link.jspa?url=https://radioly.app
https://community.cypress.com/external-link.jspa?url=https://radioly.app
https://community.esri.com/external-link.jspa?url=https://radioly.app
https://community.esri.com/external-link.jspa?url=https://radioly.app
https://community.esri.com/external-link.jspa?url=https://radioly.app
https://community.esri.com/external-link.jspa?url=https://radioly.app
https://community.macmillan.com/external-link.jspa?url=https://radioly.app
https://community.macmillan.com/external-link.jspa?url=https://radioly.app
https://community.macmillan.com/external-link.jspa?url=https://radioly.app
https://community.macmillan.com/external-link.jspa?url=https://radioly.app
https://community.macmillan.com/external-link.jspa?url=https://radioly.app
https://community.nfpa.org/external-link.jspa?url=https://radioly.app
https://community.nfpa.org/external-link.jspa?url=https://radioly.app
https://community.nfpa.org/external-link.jspa?url=https://radioly.app
https://community.nfpa.org/external-link.jspa?url=https://radioly.app
https://community.nxp.com/external-link.jspa?url=https://radioly.app
https://community.nxp.com/external-link.jspa?url=https://radioly.app
https://community.nxp.com/external-link.jspa?url=https://radioly.app
https://community.nxp.com/external-link.jspa?url=https://radioly.app
https://community.rsa.com/external-link.jspa?url=https://radioly.app
https://community.rsa.com/external-link.jspa?url=https://radioly.app
https://community.rsa.com/external-link.jspa?url=https://radioly.app
https://community.rsa.com/external-link.jspa?url=https://radioly.app
https://cse.google.ac/url?q=https://radioly.app
https://cse.google.ad/url?q=https://radioly.app
https://cse.google.ae/url?q=https://radioly.app
https://cse.google.al/url?q=https://radioly.app
https://cse.google.am/url?q=https://radioly.app
https://cse.google.as/url?q=https://radioly.app
https://cse.google.at/url?q=https://radioly.app
https://cse.google.az/url?q=https://radioly.app
https://cse.google.ba/url?q=https://radioly.app
https://cse.google.be/url?q=https://radioly.app
https://cse.google.bf/url?q=https://radioly.app
https://cse.google.bg/url?q=https://radioly.app
https://cse.google.bi/url?q=https://radioly.app
https://cse.google.bj/url?q=https://radioly.app
https://cse.google.bs/url?q=https://radioly.app
https://cse.google.bt/url?q=https://radioly.app
https://cse.google.by/url?q=https://radioly.app
https://cse.google.ca/url?q=https://radioly.app
https://cse.google.cat/url?q=https://radioly.app
https://cse.google.cc/url?q=https://radioly.app
https://cse.google.cd/url?q=https://radioly.app
https://cse.google.cf/url?q=https://radioly.app
https://cse.google.cg/url?q=https://radioly.app
https://cse.google.ch/url?q=https://radioly.app
https://cse.google.ci/url?q=https://radioly.app
https://cse.google.cl/url?q=https://radioly.app
https://cse.google.cm/url?q=https://radioly.app
https://cse.google.co.ao/url?q=https://radioly.app
https://cse.google.co.bw/url?q=https://radioly.app
https://cse.google.co.ck/url?q=https://radioly.app
https://cse.google.co.cr/url?q=https://radioly.app
https://cse.google.co.id/url?q=https://radioly.app
https://cse.google.co.il/url?q=https://radioly.app
https://cse.google.co.in/url?q=https://radioly.app
https://cse.google.co.jp/url?q=https://radioly.app
https://cse.google.co.ke/url?q=https://radioly.app
https://cse.google.co.kr/url?q=https://radioly.app
https://cse.google.co.ls/url?q=https://radioly.app
https://cse.google.co.ma/url?q=https://radioly.app
https://cse.google.co.mz/url?q=https://radioly.app
https://cse.google.co.nz/url?q=https://radioly.app
https://cse.google.co.th/url?q=https://radioly.app
https://cse.google.co.tz/url?q=https://radioly.app
https://cse.google.co.ug/url?q=https://radioly.app
https://cse.google.co.uk/url?q=https://radioly.app
https://cse.google.co.uz/url?q=https://radioly.app
https://cse.google.co.ve/url?q=https://radioly.app
https://cse.google.co.vi/url?q=https://radioly.app
https://cse.google.co.za/url?q=https://radioly.app
https://cse.google.co.zm/url?q=https://radioly.app
https://cse.google.co.zw/url?q=https://radioly.app
https://cse.google.com.af/url?q=https://radioly.app
https://cse.google.com.ag/url?q=https://radioly.app
https://cse.google.com.ai/url?q=https://radioly.app
https://cse.google.com.au/url?q=https://radioly.app
https://cse.google.com.bd/url?q=https://radioly.app
https://cse.google.com.bh/url?q=https://radioly.app
https://cse.google.com.bn/url?q=https://radioly.app
https://cse.google.com.bo/url?q=https://radioly.app
https://cse.google.com.br/url?q=https://radioly.app
https://cse.google.com.bz/url?q=https://radioly.app
https://cse.google.com.co/url?q=https://radioly.app
https://cse.google.com.cu/url?q=https://radioly.app
https://cse.google.com.cy/url?q=https://radioly.app
https://cse.google.com.do/url?q=https://radioly.app
https://cse.google.com.ec/url?q=https://radioly.app
https://cse.google.com.eg/url?q=https://radioly.app
https://cse.google.com.et/url?q=https://radioly.app
https://cse.google.com.fj/url?q=https://radioly.app
https://cse.google.com.gh/url?q=https://radioly.app
https://cse.google.com.gi/url?q=https://radioly.app
https://cse.google.com.gr/url?q=https://radioly.app
https://cse.google.com.gt/url?q=https://radioly.app
https://cse.google.com.hk/url?q=https://radioly.app
https://cse.google.com.jm/url?q=https://radioly.app
https://cse.google.com.kh/url?q=https://radioly.app
https://cse.google.com.kw/url?q=https://radioly.app
https://cse.google.com.lb/url?q=https://radioly.app
https://cse.google.com.lc/url?q=https://radioly.app
https://cse.google.com.ly/url?q=https://radioly.app
https://cse.google.com.mm/url?q=https://radioly.app
https://cse.google.com.mt/url?q=https://radioly.app
https://cse.google.com.mx/url?q=https://radioly.app
https://cse.google.com.my/url?q=https://radioly.app
https://cse.google.com.na/url?q=https://radioly.app
https://cse.google.com.nf/url?q=https://radioly.app
https://cse.google.com.ng/url?q=https://radioly.app
https://cse.google.com.ni/url?q=https://radioly.app
https://cse.google.com.np/url?q=https://radioly.app
https://cse.google.com.om/url?q=https://radioly.app
https://cse.google.com.pa/url?q=https://radioly.app
https://cse.google.com.pe/url?q=https://radioly.app
https://cse.google.com.pg/url?q=https://radioly.app
https://cse.google.com.ph/url?q=https://radioly.app
https://cse.google.com.pk/url?q=https://radioly.app
https://cse.google.com.pr/url?q=https://radioly.app
https://cse.google.com.py/url?q=https://radioly.app
https://cse.google.com.qa/url?q=https://radioly.app
https://cse.google.com.sa/url?q=https://radioly.app
https://cse.google.com.sb/url?q=https://radioly.app
https://cse.google.com.sg/url?q=https://radioly.app
https://cse.google.com.sl/url?q=https://radioly.app
https://cse.google.com.sv/url?q=https://radioly.app
https://cse.google.com.tj/url?q=https://radioly.app
https://cse.google.com.tr/url?q=https://radioly.app
https://cse.google.com.tw/url?q=https://radioly.app
https://cse.google.com.ua/url?q=https://radioly.app
https://cse.google.com.uy/url?q=https://radioly.app
https://cse.google.com.vc/url?q=https://radioly.app
https://cse.google.com.vn/url?q=https://radioly.app
https://cse.google.com/url?q=https://radioly.app
https://cse.google.cv/url?q=https://radioly.app
https://cse.google.cz/url?q=https://radioly.app
https://cse.google.de/url?q=https://radioly.app
https://cse.google.dj/url?q=https://radioly.app
https://cse.google.dk/url?q=https://radioly.app
https://cse.google.dm/url?q=https://radioly.app
https://cse.google.dz/url?q=https://radioly.app
https://cse.google.ee/url?q=https://radioly.app
https://cse.google.es/url?q=https://radioly.app
https://cse.google.fi/url?q=https://radioly.app
https://cse.google.fm/url?q=https://radioly.app
https://cse.google.fr/url?q=https://radioly.app
https://cse.google.ga/url?q=https://radioly.app
https://cse.google.ge/url?q=https://radioly.app
https://cse.google.gf/url?q=https://radioly.app
https://cse.google.gg/url?q=https://radioly.app
https://cse.google.gl/url?q=https://radioly.app
https://cse.google.gm/url?q=https://radioly.app
https://cse.google.gp/url?q=https://radioly.app
https://cse.google.gr/url?q=https://radioly.app
https://cse.google.gy/url?q=https://radioly.app
https://cse.google.hn/url?q=https://radioly.app
https://cse.google.hr/url?q=https://radioly.app
https://cse.google.ht/url?q=https://radioly.app
https://cse.google.hu/url?q=https://radioly.app
https://cse.google.ie/url?q=https://radioly.app
https://cse.google.im/url?q=https://radioly.app
https://cse.google.io/url?q=https://radioly.app
https://cse.google.iq/url?q=https://radioly.app
https://cse.google.is/url?q=https://radioly.app
https://cse.google.it/url?q=https://radioly.app
https://cse.google.je/url?q=https://radioly.app
https://cse.google.jo/url?q=https://radioly.app
https://cse.google.kg/url?q=https://radioly.app
https://cse.google.ki/url?q=https://radioly.app
https://cse.google.kz/url?q=https://radioly.app
https://cse.google.la/url?q=https://radioly.app
https://cse.google.li/url?q=https://radioly.app
https://cse.google.lk/url?q=https://radioly.app
https://cse.google.lt/url?q=https://radioly.app
https://cse.google.lu/url?q=https://radioly.app
https://cse.google.lv/url?q=https://radioly.app
https://cse.google.me/url?q=https://radioly.app
https://cse.google.mg/url?q=https://radioly.app
https://cse.google.mk/url?q=https://radioly.app
https://cse.google.ml/url?q=https://radioly.app
https://cse.google.mn/url?q=https://radioly.app
https://cse.google.ms/url?q=https://radioly.app
https://cse.google.mu/url?q=https://radioly.app
https://cse.google.mv/url?q=https://radioly.app
https://cse.google.mw/url?q=https://radioly.app
https://cse.google.ne/url?q=https://radioly.app
https://cse.google.nl/url?q=https://radioly.app
https://cse.google.no/url?q=https://radioly.app
https://cse.google.nr/url?q=https://radioly.app
https://cse.google.nu/url?q=https://radioly.app
https://cse.google.pl/url?q=https://radioly.app
https://cse.google.pn/url?q=https://radioly.app
https://cse.google.ps/url?q=https://radioly.app
https://cse.google.pt/url?q=https://radioly.app
https://cse.google.ro/url?q=https://radioly.app
https://cse.google.rs/url?q=https://radioly.app
https://cse.google.ru/url?q=https://radioly.app
https://cse.google.rw/url?q=https://radioly.app
https://cse.google.sc/url?q=https://radioly.app
https://cse.google.se/url?q=https://radioly.app
https://cse.google.sh/url?q=https://radioly.app
https://cse.google.si/url?q=https://radioly.app
https://cse.google.sk/url?q=https://radioly.app
https://cse.google.sm/url?q=https://radioly.app
https://cse.google.sn/url?q=https://radioly.app
https://cse.google.so/url?q=https://radioly.app
https://cse.google.sr/url?q=https://radioly.app
https://cse.google.st/url?q=https://radioly.app
https://cse.google.td/url?q=https://radioly.app
https://cse.google.tg/url?q=https://radioly.app
https://cse.google.tk/url?q=https://radioly.app
https://cse.google.tl/url?q=https://radioly.app
https://cse.google.tm/url?q=https://radioly.app
https://cse.google.tn/url?q=https://radioly.app
https://cse.google.to/url?q=https://radioly.app
https://cse.google.tt/url?q=https://radioly.app
https://cse.google.vg/url?q=https://radioly.app
https://cse.google.vu/url?q=https://radioly.app
https://cse.google.ws/url?q=https://radioly.app
https://curseforge.com/linkout?remoteurl=https://radioly.app
https://curseforge.com/linkout?remoteurl=https://radioly.app
https://doodle.com/r?url=https://radioly.app
https://doodle.com/r?url=https://radioly.app
https://duckduckgo.com/radioly.app?ia=web
https://feedroll.com/rssviewer/feed2js.php?src=http://radioly.app
https://fhwa.dot.gov/reauthorization/reauexit.cfm?link=https://radioly.app
https://fhwa.dot.gov/reauthorization/reauexit.cfm?link=https://radioly.app
https://foro.ketojardin.com/proxy.php?link=https://radioly.app
https://foro.ketojardin.com/proxy.php?link=https://radioly.app%2F
https://foro.ketojardin.com/proxy.php?link=http://radioly.app%2F
https://foro.ketojardin.com/proxy.php?link=https://radioly.app
https://foro.ketojardin.com/proxy.php?link=https://radioly.app
https://forum.solidworks.com/external-link.jspa?url=https://radioly.app
https://forum.solidworks.com/external-link.jspa?url=https://radioly.app
https://forum.solidworks.com/external-link.jspa?url=https://radioly.app
https://forum.solidworks.com/external-link.jspa?url=https://radioly.app
https://galter.northwestern.edu/exit?url=https://radioly.app
https://galter.northwestern.edu/exit?url=https://radioly.app
https://galter.northwestern.edu/exit?url=https://radioly.app
https://georgewbushlibrary.smu.edu/exit.aspx?url=https://radioly.app
https://georgewbushlibrary.smu.edu/exit.aspx?url=https://radioly.app
https://georgewbushlibrary.smu.edu/exit.aspx?url=https://radioly.app
https://georgewbushlibrary.smu.edu/exit.aspx?url=https://radioly.app
https://google.ac/url?q=https://radioly.app
https://google.ad/url?q=https://radioly.app
https://google.ae/url?q=https://radioly.app
https://google.ae/url?sa=t&url=https://radioly.app
https://google.ae/url?sa=t&url=https://radioly.app
https://google.al/url?q=https://radioly.app
https://google.am/url?q=https://radioly.app
https://google.as/url?q=https://radioly.app
https://google.at/url?q=https://radioly.app
https://google.at/url?sa=t&url=https://radioly.app
https://google.at/url?sa=t&url=https://radioly.app
https://google.az/url?q=https://radioly.app
https://google.ba/url?q=https://radioly.app
https://google.be/url?q=https://radioly.app
https://google.be/url?sa=t&url=https://radioly.app
https://google.be/url?sa=t&url=https://radioly.app
https://google.bf/url?q=https://radioly.app
https://google.bg/url?q=https://radioly.app
https://google.bg/url?sa=t&url=https://radioly.app
https://google.bg/url?sa=t&url=https://radioly.app
https://google.bi/url?q=https://radioly.app
https://google.bj/url?q=https://radioly.app
https://google.bs/url?q=https://radioly.app
https://google.bt/url?q=https://radioly.app
https://google.by/url?q=https://radioly.app
https://google.by/url?sa=t&url=https://radioly.app
https://google.by/url?sa=t&url=https://radioly.app
https://google.ca/url?q=https://radioly.app
https://google.ca/url?sa=t&url=https://radioly.app
https://google.ca/url?sa=t&url=https://radioly.app
https://google.cat/url?q=https://radioly.app
https://google.cc/url?q=https://radioly.app
https://google.cd/url?q=https://radioly.app
https://google.cf/url?q=https://radioly.app
https://google.cg/url?q=https://radioly.app
https://google.ch/url?q=https://radioly.app
https://google.ch/url?sa=t&url=https://radioly.app
https://google.ch/url?sa=t&url=https://radioly.app
https://google.ci/url?q=https://radioly.app
https://google.cl/url?sa=t&url=https://radioly.app
https://google.cl/url?sa=t&url=https://radioly.app
https://google.club.tw/url?q=https://radioly.app
https://google.cm/url?q=https://radioly.app
https://google.cn/url?q=https://radioly.app
https://google.co.ao/url?q=https://radioly.app
https://google.co.bw/url?q=https://radioly.app
https://google.co.ck/url?q=https://radioly.app
https://google.co.cr/url?q=https://radioly.app
https://google.co.hu/url?q=https://radioly.app
https://google.co.id/url?q=https://radioly.app
https://google.co.id/url?sa=t&url=https://radioly.app
https://google.co.id/url?sa=t&url=https://radioly.app
https://google.co.il/url?q=https://radioly.app
https://google.co.il/url?sa=t&url=https://radioly.app
https://google.co.il/url?sa=t&url=https://radioly.app
https://google.co.in/url?q=https://radioly.app
https://google.co.in/url?sa=t&url=https://radioly.app
https://google.co.in/url?sa=t&url=https://radioly.app
https://google.co.jp/url?q=https://radioly.app
https://google.co.jp/url?sa=t&url=https://radioly.app
https://google.co.jp/url?sa=t&url=https://radioly.app
https://google.co.ke/url?q=https://radioly.app
https://google.co.kr/url?q=https://radioly.app
https://google.co.ls/url?q=https://radioly.app
https://google.co.ma/url?q=https://radioly.app
https://google.co.mz/url?q=https://radioly.app
https://google.co.nz/url?q=https://radioly.app
https://google.co.nz/url?sa=t&url=https://radioly.app
https://google.co.nz/url?sa=t&url=https://radioly.app
https://google.co.th/url?q=https://radioly.app
https://google.co.th/url?sa=t&url=https://radioly.app
https://google.co.th/url?sa=t&url=https://radioly.app
https://google.co.tz/url?q=https://radioly.app
https://google.co.ug/url?q=https://radioly.app
https://google.co.uk/url?sa=t&url=https://radioly.app
https://google.co.uk/url?sa=t&url=https://radioly.app
https://google.co.uz/url?q=https://radioly.app
https://google.co.ve/url?q=https://radioly.app
https://google.co.ve/url?sa=t&url=https://radioly.app
https://google.co.ve/url?sa=t&url=https://radioly.app
https://google.co.vi/url?q=https://radioly.app
https://google.co.za/url?q=https://radioly.app
https://google.co.za/url?sa=t&url=https://radioly.app
https://google.co.za/url?sa=t&url=https://radioly.app
https://google.co.zm/url?q=https://radioly.app
https://google.co.zw/url?q=https://radioly.app
https://google.com.af/url?q=https://radioly.app
https://google.com.ag/url?q=https://radioly.app
https://google.com.ai/url?q=https://radioly.app
https://google.com.ar/url?q=https://radioly.app
https://google.com.au/url?sa=t&url=https://radioly.app
https://google.com.au/url?sa=t&url=https://radioly.app
https://google.com.bd/url?q=https://radioly.app
https://google.com.bd/url?sa=t&url=https://radioly.app
https://google.com.bd/url?sa=t&url=https://radioly.app
https://google.com.bh/url?q=https://radioly.app
https://google.com.bn/url?q=https://radioly.app
https://google.com.bo/url?q=https://radioly.app
https://google.com.br/url?q=https://radioly.app
https://google.com.br/url?sa=t&url=https://radioly.app
https://google.com.br/url?sa=t&url=https://radioly.app
https://google.com.bz/url?q=https://radioly.app
https://google.com.cn/url?q=https://radioly.app
https://google.com.co/url?q=https://radioly.app
https://google.com.co/url?sa=t&url=https://radioly.app
https://google.com.co/url?sa=t&url=https://radioly.app
https://google.com.cu/url?q=https://radioly.app
https://google.com.cy/url?q=https://radioly.app
https://google.com.do/url?q=https://radioly.app
https://google.com.do/url?sa=t&url=https://radioly.app
https://google.com.do/url?sa=t&url=https://radioly.app
https://google.com.ec/url?q=https://radioly.app
https://google.com.ec/url?sa=t&url=https://radioly.app
https://google.com.ec/url?sa=t&url=https://radioly.app
https://google.com.eg/url?q=https://radioly.app
https://google.com.eg/url?sa=t&url=https://radioly.app
https://google.com.eg/url?sa=t&url=https://radioly.app
https://google.com.et/url?q=https://radioly.app
https://google.com.fj/url?q=https://radioly.app
https://google.com.gh/url?q=https://radioly.app
https://google.com.gi/url?q=https://radioly.app
https://google.com.gt/url?q=https://radioly.app
https://google.com.hk/url?q=https://radioly.app
https://google.com.hk/url?sa=t&url=https://radioly.app
https://google.com.hk/url?sa=t&url=https://radioly.app
https://google.com.jm/url?q=https://radioly.app
https://google.com.kh/url?q=https://radioly.app
https://google.com.kw/url?q=https://radioly.app
https://google.com.lb/url?q=https://radioly.app
https://google.com.ly/url?q=https://radioly.app
https://google.com.mm/url?q=https://radioly.app
https://google.com.mt/url?q=https://radioly.app
https://google.com.mx/url?q=https://radioly.app
https://google.com.mx/url?sa=t&url=https://radioly.app
https://google.com.mx/url?sa=t&url=https://radioly.app
https://google.com.my/url?q=https://radioly.app
https://google.com.my/url?sa=t&url=https://radioly.app
https://google.com.my/url?sa=t&url=https://radioly.app
https://google.com.na/url?q=https://radioly.app
https://google.com.nf/url?q=https://radioly.app
https://google.com.ng/url?q=https://radioly.app
https://google.com.ng/url?sa=t&url=https://radioly.app
https://google.com.ng/url?sa=t&url=https://radioly.app
https://google.com.ni/url?q=https://radioly.app
https://google.com.np/url?q=https://radioly.app
https://google.com.om/url?q=https://radioly.app
https://google.com.pa/url?q=https://radioly.app
https://google.com.pe/url?q=https://radioly.app
https://google.com.pe/url?sa=t&url=https://radioly.app
https://google.com.pe/url?sa=t&url=https://radioly.app
https://google.com.pg/url?q=https://radioly.app
https://google.com.ph/url?q=https://radioly.app
https://google.com.pk/url?q=https://radioly.app
https://google.com.pk/url?sa=t&url=https://radioly.app
https://google.com.pk/url?sa=t&url=https://radioly.app
https://google.com.pl/url?q=https://radioly.app
https://google.com.pr/url?q=https://radioly.app
https://google.com.py/url?q=https://radioly.app
https://google.com.qa/url?q=https://radioly.app
https://google.com.ru/url?q=https://radioly.app
https://google.com.sa/url?q=https://radioly.app
https://google.com.sa/url?sa=t&url=https://radioly.app
https://google.com.sa/url?sa=t&url=https://radioly.app
https://google.com.sb/url?q=https://radioly.app
https://google.com.sg/url?q=https://radioly.app
https://google.com.sg/url?sa=t&url=https://radioly.app
https://google.com.sg/url?sa=t&url=https://radioly.app
https://google.com.sl/url?q=https://radioly.app
https://google.com.sv/url?q=https://radioly.app
https://google.com.tj/url?q=https://radioly.app
https://google.com.tr/url?q=https://radioly.app
https://google.com.tr/url?sa=t&url=https://radioly.app
https://google.com.tr/url?sa=t&url=https://radioly.app
https://google.com.tw/url?q=https://radioly.app
https://google.com.tw/url?sa=t&url=https://radioly.app
https://google.com.tw/url?sa=t&url=https://radioly.app
https://google.com.ua/url?q=https://radioly.app
https://google.com.ua/url?sa=t&url=https://radioly.app
https://google.com.ua/url?sa=t&url=https://radioly.app
https://google.com.uy/url?q=https://radioly.app
https://google.com.uy/url?sa=t&url=https://radioly.app
https://google.com.uy/url?sa=t&url=https://radioly.app
https://google.com.vc/url?q=https://radioly.app
https://google.com.vn/url?sa=t&url=https://radioly.app
https://google.com.vn/url?sa=t&url=https://radioly.app
https://google.com/url?sa=t&url=https://radioly.app
https://google.com/url?sa=t&url=https://radioly.app
https://google.cv/url?q=https://radioly.app
https://google.cz/url?q=https://radioly.app
https://google.cz/url?sa=t&url=https://radioly.app
https://google.cz/url?sa=t&url=https://radioly.app
https://google.de/url?q=https://radioly.app
https://google.de/url?sa=t&url=https://radioly.app
https://google.de/url?sa=t&url=https://radioly.app
https://google.dj/url?q=https://radioly.app
https://google.dk/url?q=https://radioly.app
https://google.dk/url?sa=t&url=https://radioly.app
https://google.dk/url?sa=t&url=https://radioly.app
https://google.dm/url?q=https://radioly.app
https://google.dz/url?q=https://radioly.app
https://google.ee/url?q=https://radioly.app
https://google.ee/url?sa=t&url=https://radioly.app
https://google.ee/url?sa=t&url=https://radioly.app
https://google.es/url?sa=t&url=https://radioly.app
https://google.es/url?sa=t&url=https://radioly.app
https://google.fi/url?q=https://radioly.app
https://google.fi/url?sa=t&url=https://radioly.app
https://google.fi/url?sa=t&url=https://radioly.app
https://google.fm/url?q=https://radioly.app
https://google.fr/url?sa=t&url=https://radioly.app
https://google.fr/url?sa=t&url=https://radioly.app
https://google.ga/url?q=https://radioly.app
https://google.ge/url?q=https://radioly.app
https://google.gg/url?q=https://radioly.app
https://google.gl/url?q=https://radioly.app
https://google.gm/url?q=https://radioly.app
https://google.gp/url?q=https://radioly.app
https://google.gr/url?q=https://radioly.app
https://google.gr/url?sa=t&url=https://radioly.app
https://google.gr/url?sa=t&url=https://radioly.app
https://google.gy/url?q=https://radioly.app
https://google.hk/url?q=https://radioly.app
https://google.hn/url?q=https://radioly.app
https://google.hr/url?q=https://radioly.app
https://google.hr/url?sa=t&url=https://radioly.app
https://google.hr/url?sa=t&url=https://radioly.app
https://google.ht/url?q=https://radioly.app
https://google.hu/url?q=https://radioly.app
https://google.hu/url?sa=t&url=https://radioly.app
https://google.hu/url?sa=t&url=https://radioly.app
https://google.ie/url?q=https://radioly.app
https://google.ie/url?sa=t&url=https://radioly.app
https://google.ie/url?sa=t&url=https://radioly.app
https://google.im/url?q=https://radioly.app
https://google.iq/url?q=https://radioly.app
https://google.is/url?q=https://radioly.app
https://google.it/url?q=https://radioly.app
https://google.it/url?sa=t&url=https://radioly.app
https://google.it/url?sa=t&url=https://radioly.app
https://google.je/url?q=https://radioly.app
https://google.jo/url?q=https://radioly.app
https://google.jp/url?q=https://radioly.app
https://google.keto/url?q=https://radioly.app
https://google.kg/url?q=https://radioly.app
https://google.ki/url?q=https://radioly.app
https://google.kz/url?q=https://radioly.app
https://google.la/url?q=https://radioly.app
https://google.li/url?q=https://radioly.app
https://google.lk/url?q=https://radioly.app
https://google.lu/url?q=https://radioly.app
https://google.lv/url?q=https://radioly.app
https://google.lv/url?sa=t&url=https://radioly.app
https://google.lv/url?sa=t&url=https://radioly.app
https://google.md/url?q=https://radioly.app
https://google.me/url?q=https://radioly.app
https://google.mg/url?q=https://radioly.app
https://google.mk/url?q=https://radioly.app
https://google.ml/url?q=https://radioly.app
https://google.mn/url?q=https://radioly.app
https://google.ms/url?q=https://radioly.app
https://google.mu/url?q=https://radioly.app
https://google.mv/url?q=https://radioly.app
https://google.mw/url?q=https://radioly.app
https://google.ne/url?q=https://radioly.app
https://google.nl/url?q=https://radioly.app
https://google.nl/url?sa=t&url=https://radioly.app
https://google.nl/url?sa=t&url=https://radioly.app
https://google.no/url?q=https://radioly.app
https://google.nr/url?q=https://radioly.app
https://google.nu/url?q=https://radioly.app
https://google.pl/url?q=https://radioly.app
https://google.pl/url?sa=t&url=https://radioly.app
https://google.pl/url?sa=t&url=https://radioly.app
https://google.pn/url?q=https://radioly.app
https://google.ps/url?q=https://radioly.app
https://google.pt/url?q=https://radioly.app
https://google.pt/url?sa=t&url=https://radioly.app
https://google.pt/url?sa=t&url=https://radioly.app
https://google.ro/url?q=https://radioly.app
https://google.ro/url?sa=t&url=https://radioly.app
https://google.ro/url?sa=t&url=https://radioly.app
https://google.rs/url?q=https://radioly.app
https://google.ru/url?q=https://radioly.app
https://google.ru/url?sa=t&url=https://radioly.app
https://google.rw/url?q=https://radioly.app
https://google.sc/url?q=https://radioly.app
https://google.se/url?q=https://radioly.app
https://google.sh/url?q=https://radioly.app
https://google.si/url?q=https://radioly.app
https://google.si/url?sa=t&url=https://radioly.app
https://google.si/url?sa=t&url=https://radioly.app
https://google.sk/url?q=https://radioly.app
https://google.sk/url?sa=t&url=https://radioly.app
https://google.sk/url?sa=t&url=https://radioly.app
https://google.sm/url?q=https://radioly.app
https://google.sn/url?q=https://radioly.app
https://google.so/url?q=https://radioly.app
https://google.sr/url?q=https://radioly.app
https://google.st/url?q=https://radioly.app
https://google.td/url?q=https://radioly.app
https://google.tg/url?q=https://radioly.app
https://google.tk/url?q=https://radioly.app
https://google.tl/url?q=https://radioly.app
https://google.tm/url?q=https://radioly.app
https://google.tn/url?q=https://radioly.app
https://google.to/url?q=https://radioly.app
https://google.tt/url?q=https://radioly.app
https://google.us/url?q=https://radioly.app
https://google.uz/url?q=https://radioly.app
https://google.vg/url?q=https://radioly.app
https://google.vu/url?q=https://radioly.app
https://google.ws/url?q=https://radioly.app
https://hospicebg.jiveon.com/external-link.jspa?url=https://radioly.app
https://hypestat.com/keto/radioly.app
https://id.telstra.com.au/register/crowdsupport?gotourl=https://radioly.app
https://id.telstra.com.au/register/crowdsupport?gotourl=https://radioly.app
https://id.telstra.com.au/register/crowdsupport?gotourl=https://radioly.app
https://images.google.ac/url?q=https://radioly.app
https://images.google.ad/url?q=https://radioly.app
https://images.google.ae/url?q=https://radioly.app
https://images.google.ae/url?sa=t&url=https://radioly.app
https://images.google.ae/url?sa=t&url=https://radioly.app
https://images.google.al/url?q=https://radioly.app
https://images.google.am/url?q=https://radioly.app
https://images.google.as/url?q=https://radioly.app
https://images.google.at/url?q=https://radioly.app
https://images.google.at/url?sa=t&url=https://radioly.app
https://images.google.at/url?sa=t&url=https://radioly.app
https://images.google.az/url?q=https://radioly.app
https://images.google.ba/url?q=https://radioly.app
https://images.google.be/url?q=https://radioly.app
https://images.google.be/url?sa=t&url=https://radioly.app
https://images.google.be/url?sa=t&url=https://radioly.app
https://images.google.bf/url?q=https://radioly.app
https://images.google.bg/url?q=https://radioly.app
https://images.google.bg/url?sa=t&url=https://radioly.app
https://images.google.bg/url?sa=t&url=https://radioly.app
https://images.google.bi/url?q=https://radioly.app
https://images.google.bj/url?q=https://radioly.app
https://images.google.bs/url?q=https://radioly.app
https://images.google.bt/url?q=https://radioly.app
https://images.google.by/url?q=https://radioly.app
https://images.google.ca/url?sa=t&url=https://radioly.app
https://images.google.ca/url?sa=t&url=https://radioly.app
https://images.google.cc/url?q=https://radioly.app
https://images.google.cd/url?q=https://radioly.app
https://images.google.cf/url?q=https://radioly.app
https://images.google.cg/url?q=https://radioly.app
https://images.google.ch/url?q=https://radioly.app
https://images.google.ch/url?sa=t&url=https://radioly.app
https://images.google.ch/url?sa=t&url=https://radioly.app
https://images.google.ci/url?q=https://radioly.app
https://images.google.cl/url?q=https://radioly.app
https://images.google.cl/url?sa=t&url=https://radioly.app
https://images.google.cl/url?sa=t&url=https://radioly.app
https://images.google.cn/url?q=https://radioly.app
https://images.google.co.ao/url?q=https://radioly.app
https://images.google.co.bw/url?q=https://radioly.app
https://images.google.co.ck/url?q=https://radioly.app
https://images.google.co.cr/url?q=https://radioly.app
https://images.google.co.hu/url?q=https://radioly.app
https://images.google.co.id/url?q=https://radioly.app
https://images.google.co.id/url?sa=t&url=https://radioly.app
https://images.google.co.id/url?sa=t&url=https://radioly.app
https://images.google.co.il/url?q=https://radioly.app
https://images.google.co.il/url?sa=t&url=https://radioly.app
https://images.google.co.il/url?sa=t&url=https://radioly.app
https://images.google.co.in/url?q=https://radioly.app
https://images.google.co.in/url?sa=t&url=https://radioly.app
https://images.google.co.in/url?sa=t&url=https://radioly.app
https://images.google.co.jp/url?sa=t&url=https://radioly.app
https://images.google.co.jp/url?sa=t&url=https://radioly.app
https://images.google.co.kr/url?q=https://radioly.app
https://images.google.co.ls/url?q=https://radioly.app
https://images.google.co.ma/url?q=https://radioly.app
https://images.google.co.mz/url?q=https://radioly.app
https://images.google.co.nz/url?sa=t&url=https://radioly.app
https://images.google.co.nz/url?sa=t&url=https://radioly.app
https://images.google.co.th/url?q=https://radioly.app
https://images.google.co.th/url?sa=t&url=https://radioly.app
https://images.google.co.th/url?sa=t&url=https://radioly.app
https://images.google.co.tz/url?q=https://radioly.app
https://images.google.co.ug/url?q=https://radioly.app
https://images.google.co.uk/url?sa=t&url=https://radioly.app
https://images.google.co.uk/url?sa=t&url=https://radioly.app
https://images.google.co.uk/url?sa=t&url=https://radioly.app
https://images.google.co.uk/url?sa=t&url=https://radioly.app
https://images.google.co.uz/url?q=https://radioly.app
https://images.google.co.ve/url?q=https://radioly.app
https://images.google.co.ve/url?sa=t&url=https://radioly.app
https://images.google.co.ve/url?sa=t&url=https://radioly.app
https://images.google.co.vi/url?q=https://radioly.app
https://images.google.co.za/url?q=https://radioly.app
https://images.google.co.za/url?sa=t&url=https://radioly.app
https://images.google.co.za/url?sa=t&url=https://radioly.app
https://images.google.co.zm/url?q=https://radioly.app
https://images.google.co.zw/url?q=https://radioly.app
https://images.google.com.af/url?q=https://radioly.app
https://images.google.com.ag/url?q=https://radioly.app
https://images.google.com.ai/url?q=https://radioly.app
https://images.google.com.ar/url?q=https://radioly.app
https://images.google.com.au/url?q=https://radioly.app
https://images.google.com.au/url?sa=t&url=https://radioly.app
https://images.google.com.au/url?sa=t&url=https://radioly.app
https://images.google.com.bd/url?q=https://radioly.app
https://images.google.com.bd/url?sa=t&url=https://radioly.app
https://images.google.com.bh/url?q=https://radioly.app
https://images.google.com.bn/url?q=https://radioly.app
https://images.google.com.bo/url?q=https://radioly.app
https://images.google.com.br/url?q=https://radioly.app
https://images.google.com.br/url?sa=t&url=https://radioly.app
https://images.google.com.br/url?sa=t&url=https://radioly.app
https://images.google.com.bz/url?q=https://radioly.app
https://images.google.com.cn/url?q=https://radioly.app
https://images.google.com.co/url?q=https://radioly.app
https://images.google.com.co/url?sa=t&url=https://radioly.app
https://images.google.com.co/url?sa=t&url=https://radioly.app
https://images.google.com.cu/url?q=https://radioly.app
https://images.google.com.cy/url?q=https://radioly.app
https://images.google.com.do/url?q=https://radioly.app
https://images.google.com.do/url?sa=t&url=https://radioly.app
https://images.google.com.do/url?sa=t&url=https://radioly.app
https://images.google.com.ec/url?q=https://radioly.app
https://images.google.com.ec/url?sa=t&url=https://radioly.app
https://images.google.com.ec/url?sa=t&url=https://radioly.app
https://images.google.com.eg/url?q=https://radioly.app
https://images.google.com.eg/url?sa=t&url=https://radioly.app
https://images.google.com.eg/url?sa=t&url=https://radioly.app
https://images.google.com.et/url?q=https://radioly.app
https://images.google.com.fj/url?q=https://radioly.app
https://images.google.com.gh/url?q=https://radioly.app
https://images.google.com.gi/url?q=https://radioly.app
https://images.google.com.hk/url?q=https://radioly.app
https://images.google.com.hk/url?sa=t&url=https://radioly.app
https://images.google.com.hk/url?sa=t&url=https://radioly.app
https://images.google.com.jm/url?q=https://radioly.app
https://images.google.com.kw/url?q=https://radioly.app
https://images.google.com.lb/url?q=https://radioly.app
https://images.google.com.ly/url?q=https://radioly.app
https://images.google.com.mm/url?q=https://radioly.app
https://images.google.com.mt/url?q=https://radioly.app
https://images.google.com.mx/url?q=https://radioly.app
https://images.google.com.mx/url?sa=t&url=https://radioly.app
https://images.google.com.mx/url?sa=t&url=https://radioly.app
https://images.google.com.my/url?q=https://radioly.app
https://images.google.com.my/url?sa=t&url=https://radioly.app
https://images.google.com.my/url?sa=t&url=https://radioly.app
https://images.google.com.na/url?q=https://radioly.app
https://images.google.com.nf/url?q=https://radioly.app
https://images.google.com.ng/url?q=https://radioly.app
https://images.google.com.ng/url?sa=t&url=https://radioly.app
https://images.google.com.ng/url?sa=t&url=https://radioly.app
https://images.google.com.ni/url?q=https://radioly.app
https://images.google.com.np/url?q=https://radioly.app
https://images.google.com.om/url?q=https://radioly.app
https://images.google.com.pe/url?q=https://radioly.app
https://images.google.com.pe/url?sa=t&url=https://radioly.app
https://images.google.com.pe/url?sa=t&url=https://radioly.app
https://images.google.com.pg/url?q=https://radioly.app
https://images.google.com.ph/url?q=https://radioly.app
https://images.google.com.pk/url?q=https://radioly.app
https://images.google.com.pk/url?sa=t&url=https://radioly.app
https://images.google.com.pk/url?sa=t&url=https://radioly.app
https://images.google.com.pl/url?q=https://radioly.app
https://images.google.com.pr/url?q=https://radioly.app
https://images.google.com.py/url?q=https://radioly.app
https://images.google.com.qa/url?q=https://radioly.app
https://images.google.com.ru/url?q=https://radioly.app
https://images.google.com.sa/url?q=https://radioly.app
https://images.google.com.sa/url?sa=t&url=https://radioly.app
https://images.google.com.sa/url?sa=t&url=https://radioly.app
https://images.google.com.sb/url?q=https://radioly.app
https://images.google.com.sg/url?q=https://radioly.app
https://images.google.com.sg/url?sa=t&url=https://radioly.app
https://images.google.com.sg/url?sa=t&url=https://radioly.app
https://images.google.com.sl/url?q=https://radioly.app
https://images.google.com.sv/url?q=https://radioly.app
https://images.google.com.tj/url?q=https://radioly.app
https://images.google.com.tr/url?q=https://radioly.app
https://images.google.com.tr/url?sa=t&url=https://radioly.app
https://images.google.com.tr/url?sa=t&url=https://radioly.app
https://images.google.com.tw/url?q=https://radioly.app
https://images.google.com.tw/url?sa=t&url=https://radioly.app
https://images.google.com.tw/url?sa=t&url=https://radioly.app
https://images.google.com.ua/url?q=https://radioly.app
https://images.google.com.ua/url?sa=t&url=https://radioly.app
https://images.google.com.ua/url?sa=t&url=https://radioly.app
https://images.google.com.uy/url?q=https://radioly.app
https://images.google.com.uy/url?sa=t&url=https://radioly.app
https://images.google.com.uy/url?sa=t&url=https://radioly.app
https://images.google.com.vc/url?q=https://radioly.app
https://images.google.com.vn/url?q=https://radioly.app
https://images.google.com.vn/url?q=https://radioly.app
https://images.google.com.vn/url?sa=t&url=https://radioly.app
https://images.google.com.vn/url?sa=t&url=https://radioly.app
https://images.google.com/url?q=https://radioly.app
https://images.google.com/url?sa=t&url=https://radioly.app
https://images.google.com/url?sa=t&url=https://radioly.app
https://images.google.cv/url?q=https://radioly.app
https://images.google.cz/url?q=https://radioly.app
https://images.google.cz/url?sa=t&url=https://radioly.app
https://images.google.cz/url?sa=t&url=https://radioly.app
https://images.google.de/url?q=https://radioly.app
https://images.google.de/url?sa=t&url=https://radioly.app
https://images.google.de/url?sa=t&url=https://radioly.app
https://images.google.de/url?sa=t&url=https://radioly.app
https://images.google.de/url?sa=t&url=https://radioly.app
https://images.google.dj/url?q=https://radioly.app
https://images.google.dk/url?q=https://radioly.app
https://images.google.dk/url?sa=t&url=https://radioly.app
https://images.google.dk/url?sa=t&url=https://radioly.app
https://images.google.dm/url?q=https://radioly.app
https://images.google.ee/url?q=https://radioly.app
https://images.google.ee/url?sa=t&url=https://radioly.app
https://images.google.ee/url?sa=t&url=https://radioly.app
https://images.google.es/url?q=https://radioly.app
https://images.google.es/url?sa=t&url=https://radioly.app
https://images.google.es/url?sa=t&url=https://radioly.app
https://images.google.fi/url?q=https://radioly.app
https://images.google.fi/url?sa=t&url=https://radioly.app
https://images.google.fi/url?sa=t&url=https://radioly.app
https://images.google.fm/url?q=https://radioly.app
https://images.google.fr/url?q=https://radioly.app
https://images.google.fr/url?sa=t&url=https://radioly.app
https://images.google.fr/url?sa=t&url=https://radioly.app
https://images.google.ga/url?q=https://radioly.app
https://images.google.ge/url?q=https://radioly.app
https://images.google.gg/url?q=https://radioly.app
https://images.google.gl/url?q=https://radioly.app
https://images.google.gm/url?q=https://radioly.app
https://images.google.gp/url?q=https://radioly.app
https://images.google.gr/url?q=https://radioly.app
https://images.google.gr/url?sa=t&url=https://radioly.app
https://images.google.gr/url?sa=t&url=https://radioly.app
https://images.google.gy/url?q=https://radioly.app
https://images.google.hk/url?q=https://radioly.app
https://images.google.hn/url?q=https://radioly.app
https://images.google.hr/url?q=https://radioly.app
https://images.google.hr/url?sa=t&url=https://radioly.app
https://images.google.hr/url?sa=t&url=https://radioly.app
https://images.google.ht/url?q=https://radioly.app
https://images.google.hu/url?q=https://radioly.app
https://images.google.hu/url?sa=t&url=https://radioly.app
https://images.google.hu/url?sa=t&url=https://radioly.app
https://images.google.ie/url?q=https://radioly.app
https://images.google.ie/url?sa=t&url=https://radioly.app
https://images.google.ie/url?sa=t&url=https://radioly.app
https://images.google.im/url?q=https://radioly.app
https://images.google.is/url?q=https://radioly.app
https://images.google.it/url?q=https://radioly.app
https://images.google.it/url?sa=t&url=https://radioly.app
https://images.google.it/url?sa=t&url=https://radioly.app
https://images.google.je/url?q=https://radioly.app
https://images.google.jo/url?q=https://radioly.app
https://images.google.jp/url?q=https://radioly.app
https://images.google.keto/url?q=https://radioly.app
https://images.google.kg/url?q=https://radioly.app
https://images.google.ki/url?q=https://radioly.app
https://images.google.kz/url?q=https://radioly.app
https://images.google.la/url?q=https://radioly.app
https://images.google.li/url?q=https://radioly.app
https://images.google.lk/url?q=https://radioly.app
https://images.google.lk/url?sa=t&url=https://radioly.app
https://images.google.lk/url?sa=t&url=https://radioly.app
https://images.google.lt/url?q=https://radioly.app
https://images.google.lu/url?q=https://radioly.app
https://images.google.lv/url?q=https://radioly.app
https://images.google.lv/url?sa=t&url=https://radioly.app
https://images.google.lv/url?sa=t&url=https://radioly.app
https://images.google.md/url?q=https://radioly.app
https://images.google.me/url?q=https://radioly.app
https://images.google.mg/url?q=https://radioly.app
https://images.google.mk/url?q=https://radioly.app
https://images.google.ml/url?q=https://radioly.app
https://images.google.mn/url?q=https://radioly.app
https://images.google.ms/url?q=https://radioly.app
https://images.google.mu/url?q=https://radioly.app
https://images.google.mv/url?q=https://radioly.app
https://images.google.mw/url?q=https://radioly.app
https://images.google.ne/url?q=https://radioly.app
https://images.google.nl/url?sa=t&url=https://radioly.app
https://images.google.nl/url?sa=t&url=https://radioly.app
https://images.google.no/url?q=https://radioly.app
https://images.google.nr/url?q=https://radioly.app
https://images.google.nu/url?q=https://radioly.app
https://images.google.pa/url?q=https://radioly.app
https://images.google.pl/url?sa=t&url=https://radioly.app
https://images.google.pl/url?sa=t&url=https://radioly.app
https://images.google.pn/url?q=https://radioly.app
https://images.google.ps/url?q=https://radioly.app
https://images.google.pt/url?q=https://radioly.app
https://images.google.pt/url?sa=t&url=https://radioly.app
https://images.google.pt/url?sa=t&url=https://radioly.app
https://images.google.ro/url?q=https://radioly.app
https://images.google.ro/url?sa=t&url=https://radioly.app
https://images.google.ro/url?sa=t&url=https://radioly.app
https://images.google.rs/url?q=https://radioly.app
https://images.google.ru/url?q=https://radioly.app
https://images.google.ru/url?sa=t&url=https://radioly.app
https://images.google.ru/url?sa=t&url=https://radioly.app
https://images.google.rw/url?q=https://radioly.app
https://images.google.sc/url?q=https://radioly.app
https://images.google.se/url?q=https://radioly.app
https://images.google.sh/url?q=https://radioly.app
https://images.google.si/url?q=https://radioly.app
https://images.google.si/url?sa=t&url=https://radioly.app
https://images.google.si/url?sa=t&url=https://radioly.app
https://images.google.sk/url?q=https://radioly.app
https://images.google.sk/url?sa=t&url=https://radioly.app
https://images.google.sk/url?sa=t&url=https://radioly.app
https://images.google.sm/url?q=https://radioly.app
https://images.google.sn/url?q=https://radioly.app
https://images.google.so/url?q=https://radioly.app
https://images.google.sr/url?q=https://radioly.app
https://images.google.st/url?q=https://radioly.app
https://images.google.td/url?q=https://radioly.app
https://images.google.tg/url?q=https://radioly.app
https://images.google.tk/url?q=https://radioly.app
https://images.google.tl/url?q=https://radioly.app
https://images.google.tm/url?q=https://radioly.app
https://images.google.tn/url?q=https://radioly.app
https://images.google.to/url?q=https://radioly.app
https://images.google.tt/url?q=https://radioly.app
https://images.google.us/url?q=https://radioly.app
https://images.google.uz/url?q=https://radioly.app
https://images.google.vg/url?q=https://radioly.app
https://images.google.vu/url?q=https://radioly.app
https://images.google.ws/url?q=https://radioly.app
https://jump.2ch.net/?radioly.app/
https://ketou.kz/redirect?url=https://radioly.app
https://ketou.kz/redirect?url=https://radioly.app
https://latinamerica.brother.com/LeavingOurSite.aspx?goto=radioly.app
https://latinamerica.brother.com/LeavingOurSite.aspx?goto=radioly.app/
https://lcu.hlcommission.org/lcu/pages/auth/forgotPassword.aspx?Returnurl=https://radioly.app
https://legacy.aom.org/verifymember.asp?nextpage=https://radioly.app
https://legacy.aom.org/verifymember.asp?nextpage=https://radioly.app
https://legacy.aom.org/verifymember.asp?nextpage=http://radioly.app
https://legacy.aom.org/verifymember.asp?nextpage=https://radioly.app
https://legacy.aom.org/verifymember.asp?nextpage=https://radioly.app
https://linkwithin.com/install?platform=blogger&site_id=2069303&url=https://radioly.app
https://linkwithin.com/install?platform=blogger&site_id=2069303&url=https://radioly.app
https://m.odnoklassniki.ru/dk?st.cmd=outLinkWarning&st.rfn=https://radioly.app
https://m.odnoklassniki.ru/dk?st.cmd=outLinkWarning&st.rfn=https://radioly.app
https://m.odnoklassniki.ru/dk?st.cmd=outLinkWarning&st.rfn=http://radioly.app
https://m.odnoklassniki.ru/dk?st.cmd=outLinkWarning&st.rfn=https://radioly.app
https://m.odnoklassniki.ru/dk?st.cmd=outLinkWarning&st.rfn=https://radioly.app
https://m.ok.ru/dk?st.cmd=outLinkWarning&st.rfn=https://radioly.app
https://m.ok.ru/dk?st.cmd=outLinkWarning&st.rfn=https://radioly.app
https://m.ok.ru/dk?st.cmd=outLinkWarning&st.rfn=http://radioly.app
https://m.ok.ru/dk?st.cmd=outLinkWarning&st.rfn=https://radioly.app
https://maps.google.ad/url?q=https://radioly.app
https://maps.google.ae/url?q=https://radioly.app
https://maps.google.ae/url?sa=t&url=https://radioly.app
https://maps.google.ae/url?sa=t&url=https://radioly.app
https://maps.google.al/url?q=https://radioly.app
https://maps.google.as/url?q=https://radioly.app
https://maps.google.at/url?q=https://radioly.app
https://maps.google.at/url?sa=t&url=https://radioly.app
https://maps.google.at/url?sa=t&url=https://radioly.app
https://maps.google.ba/url?q=https://radioly.app
https://maps.google.ba/url?sa=t&url=https://radioly.app
https://maps.google.ba/url?sa=t&url=https://radioly.app
https://maps.google.be/url?q=https://radioly.app
https://maps.google.be/url?sa=t&url=https://radioly.app
https://maps.google.be/url?sa=t&url=https://radioly.app
https://maps.google.bf/url?q=https://radioly.app
https://maps.google.bg/url?q=https://radioly.app
https://maps.google.bg/url?sa=t&url=https://radioly.app
https://maps.google.bg/url?sa=t&url=https://radioly.app
https://maps.google.bi/url?q=https://radioly.app
https://maps.google.bj/url?q=https://radioly.app
https://maps.google.bs/url?q=https://radioly.app
https://maps.google.bt/url?q=https://radioly.app
https://maps.google.by/url?q=https://radioly.app
https://maps.google.ca/url?sa=t&url=https://radioly.app
https://maps.google.ca/url?sa=t&url=https://radioly.app
https://maps.google.cat/url?q=https://radioly.app
https://maps.google.cd/url?q=https://radioly.app
https://maps.google.cf/url?q=https://radioly.app
https://maps.google.cg/url?q=https://radioly.app
https://maps.google.ch/url?q=https://radioly.app
https://maps.google.ch/url?sa=t&url=https://radioly.app
https://maps.google.ch/url?sa=t&url=https://radioly.app
https://maps.google.ci/url?q=https://radioly.app
https://maps.google.cl/url?q=https://radioly.app
https://maps.google.cl/url?q=https://radioly.app
https://maps.google.cl/url?sa=t&url=https://radioly.app
https://maps.google.cl/url?sa=t&url=https://radioly.app
https://maps.google.cn/url?q=https://radioly.app
https://maps.google.co.ao/url?q=https://radioly.app
https://maps.google.co.bw/url?q=https://radioly.app
https://maps.google.co.ck/url?q=https://radioly.app
https://maps.google.co.cr/url?q=https://radioly.app
https://maps.google.co.hu/url?q=https://radioly.app
https://maps.google.co.id/url?q=https://radioly.app
https://maps.google.co.id/url?sa=t&url=https://radioly.app
https://maps.google.co.id/url?sa=t&url=https://radioly.app
https://maps.google.co.il/url?q=https://radioly.app
https://maps.google.co.il/url?sa=t&url=https://radioly.app
https://maps.google.co.il/url?sa=t&url=https://radioly.app
https://maps.google.co.in/url?q=https://radioly.app
https://maps.google.co.in/url?sa=t&url=https://radioly.app
https://maps.google.co.in/url?sa=t&url=https://radioly.app
https://maps.google.co.jp/url?sa=t&url=https://radioly.app
https://maps.google.co.jp/url?sa=t&url=https://radioly.app
https://maps.google.co.kr/url?q=https://radioly.app
https://maps.google.co.ls/url?q=https://radioly.app
https://maps.google.co.ma/url?q=https://radioly.app
https://maps.google.co.mz/url?q=https://radioly.app
https://maps.google.co.nz/url?sa=t&url=https://radioly.app
https://maps.google.co.nz/url?sa=t&url=https://radioly.app
https://maps.google.co.th/url?q=https://radioly.app
https://maps.google.co.th/url?sa=t&url=https://radioly.app
https://maps.google.co.th/url?sa=t&url=https://radioly.app
https://maps.google.co.tz/url?q=https://radioly.app
https://maps.google.co.ug/url?q=https://radioly.app
https://maps.google.co.uk/url?sa=t&url=https://radioly.app
https://maps.google.co.uk/url?sa=t&url=https://radioly.app
https://maps.google.co.ve/url?q=https://radioly.app
https://maps.google.co.ve/url?sa=t&url=https://radioly.app
https://maps.google.co.ve/url?sa=t&url=https://radioly.app
https://maps.google.co.vi/url?q=https://radioly.app
https://maps.google.co.za/url?q=https://radioly.app
https://maps.google.co.za/url?sa=t&url=https://radioly.app
https://maps.google.co.za/url?sa=t&url=https://radioly.app
https://maps.google.co.zm/url?q=https://radioly.app
https://maps.google.co.zw/url?q=https://radioly.app
https://maps.google.com.ag/url?q=https://radioly.app
https://maps.google.com.ai/url?q=https://radioly.app
https://maps.google.com.ar/url?q=https://radioly.app
https://maps.google.com.au/url?sa=t&url=https://radioly.app
https://maps.google.com.au/url?sa=t&url=https://radioly.app
https://maps.google.com.bd/url?q=https://radioly.app
https://maps.google.com.bh/url?q=https://radioly.app
https://maps.google.com.bn/url?q=https://radioly.app
https://maps.google.com.bo/url?q=https://radioly.app
https://maps.google.com.br/url?q=https://radioly.app
https://maps.google.com.br/url?sa=t&url=https://radioly.app
https://maps.google.com.br/url?sa=t&url=https://radioly.app
https://maps.google.com.bz/url?q=https://radioly.app
https://maps.google.com.cn/url?q=https://radioly.app
https://maps.google.com.co/url?q=https://radioly.app
https://maps.google.com.co/url?sa=t&url=https://radioly.app
https://maps.google.com.co/url?sa=t&url=https://radioly.app
https://maps.google.com.cu/url?q=https://radioly.app
https://maps.google.com.do/url?q=https://radioly.app
https://maps.google.com.do/url?sa=t&url=https://radioly.app
https://maps.google.com.do/url?sa=t&url=https://radioly.app
https://maps.google.com.ec/url?q=https://radioly.app
https://maps.google.com.eg/url?q=https://radioly.app
https://maps.google.com.eg/url?sa=t&url=https://radioly.app
https://maps.google.com.eg/url?sa=t&url=https://radioly.app
https://maps.google.com.et/url?q=https://radioly.app
https://maps.google.com.fj/url?q=https://radioly.app
https://maps.google.com.gh/url?q=https://radioly.app
https://maps.google.com.gi/url?q=https://radioly.app
https://maps.google.com.gt/url?q=https://radioly.app
https://maps.google.com.hk/url?q=https://radioly.app
https://maps.google.com.hk/url?sa=t&url=https://radioly.app
https://maps.google.com.hk/url?sa=t&url=https://radioly.app
https://maps.google.com.jm/url?q=https://radioly.app
https://maps.google.com.kw/url?q=https://radioly.app
https://maps.google.com.lb/url?q=https://radioly.app
https://maps.google.com.ly/url?q=https://radioly.app
https://maps.google.com.mm/url?q=https://radioly.app
https://maps.google.com.mt/url?q=https://radioly.app
https://maps.google.com.mx/url?q=https://radioly.app
https://maps.google.com.mx/url?sa=t&url=https://radioly.app
https://maps.google.com.mx/url?sa=t&url=https://radioly.app
https://maps.google.com.my/url?q=https://radioly.app
https://maps.google.com.my/url?sa=t&url=https://radioly.app
https://maps.google.com.my/url?sa=t&url=https://radioly.app
https://maps.google.com.na/url?q=https://radioly.app
https://maps.google.com.nf/url?q=https://radioly.app
https://maps.google.com.ng/url?q=https://radioly.app
https://maps.google.com.ni/url?q=https://radioly.app
https://maps.google.com.om/url?q=https://radioly.app
https://maps.google.com.pe/url?q=https://radioly.app
https://maps.google.com.pg/url?q=https://radioly.app
https://maps.google.com.ph/url?q=https://radioly.app
https://maps.google.com.pk/url?q=https://radioly.app
https://maps.google.com.pl/url?q=https://radioly.app
https://maps.google.com.pr/url?q=https://radioly.app
https://maps.google.com.py/url?q=https://radioly.app
https://maps.google.com.qa/url?q=https://radioly.app
https://maps.google.com.ru/url?q=https://radioly.app
https://maps.google.com.sa/url?q=https://radioly.app
https://maps.google.com.sa/url?sa=t&url=https://radioly.app
https://maps.google.com.sa/url?sa=t&url=https://radioly.app
https://maps.google.com.sb/url?q=https://radioly.app
https://maps.google.com.sg/url?q=https://radioly.app
https://maps.google.com.sg/url?sa=t&url=https://radioly.app
https://maps.google.com.sg/url?sa=t&url=https://radioly.app
https://maps.google.com.sl/url?q=https://radioly.app
https://maps.google.com.sv/url?q=https://radioly.app
https://maps.google.com.tr/url?q=https://radioly.app
https://maps.google.com.tr/url?sa=t&url=https://radioly.app
https://maps.google.com.tr/url?sa=t&url=https://radioly.app
https://maps.google.com.tw/url?q=https://radioly.app
https://maps.google.com.tw/url?sa=t&url=https://radioly.app
https://maps.google.com.tw/url?sa=t&url=https://radioly.app
https://maps.google.com.ua/url?q=https://radioly.app
https://maps.google.com.ua/url?sa=t&url=https://radioly.app
https://maps.google.com.ua/url?sa=t&url=https://radioly.app
https://maps.google.com.uy/url?q=https://radioly.app
https://maps.google.com.vc/url?q=https://radioly.app
https://maps.google.com/url?q=https://radioly.app
https://maps.google.com/url?sa=t&url=https://radioly.app
https://maps.google.com/url?sa=t&url=https://radioly.app
https://maps.google.com/url?sa=t&url=https://radioly.app
https://maps.google.cz/url?q=https://radioly.app
https://maps.google.cz/url?sa=t&url=https://radioly.app
https://maps.google.cz/url?sa=t&url=https://radioly.app
https://maps.google.de/url?q=https://radioly.app
https://maps.google.de/url?sa=t&url=https://radioly.app
https://maps.google.de/url?sa=t&url=https://radioly.app
https://maps.google.de/url?sa=t&url=https://radioly.app
https://maps.google.de/url?sa=t&url=https://radioly.app
https://maps.google.dj/url?q=https://radioly.app
https://maps.google.dk/url?q=https://radioly.app
https://maps.google.dk/url?sa=t&url=https://radioly.app
https://maps.google.dk/url?sa=t&url=https://radioly.app
https://maps.google.dm/url?q=https://radioly.app
https://maps.google.ee/url?q=https://radioly.app
https://maps.google.ee/url?sa=t&url=https://radioly.app
https://maps.google.ee/url?sa=t&url=https://radioly.app
https://maps.google.es/url?q=https://radioly.app
https://maps.google.es/url?sa=t&url=https://radioly.app
https://maps.google.es/url?sa=t&url=https://radioly.app
https://maps.google.fi/url?q=https://radioly.app
https://maps.google.fi/url?sa=t&url=https://radioly.app
https://maps.google.fi/url?sa=t&url=https://radioly.app
https://maps.google.fm/url?q=https://radioly.app
https://maps.google.fr/url?q=https://radioly.app
https://maps.google.fr/url?sa=t&url=https://radioly.app
https://maps.google.fr/url?sa=t&url=https://radioly.app
https://maps.google.ga/url?q=https://radioly.app
https://maps.google.ge/url?q=https://radioly.app
https://maps.google.gg/url?q=https://radioly.app
https://maps.google.gl/url?q=https://radioly.app
https://maps.google.gm/url?q=https://radioly.app
https://maps.google.gp/url?q=https://radioly.app
https://maps.google.gr/url?q=https://radioly.app
https://maps.google.gr/url?sa=t&url=https://radioly.app
https://maps.google.gr/url?sa=t&url=https://radioly.app
https://maps.google.gy/url?q=https://radioly.app
https://maps.google.hk/url?q=https://radioly.app
https://maps.google.hn/url?q=https://radioly.app
https://maps.google.hr/url?q=https://radioly.app
https://maps.google.hr/url?sa=t&url=https://radioly.app
https://maps.google.hr/url?sa=t&url=https://radioly.app
https://maps.google.ht/url?q=https://radioly.app
https://maps.google.hu/url?q=https://radioly.app
https://maps.google.hu/url?sa=t&url=https://radioly.app
https://maps.google.hu/url?sa=t&url=https://radioly.app
https://maps.google.ie/url?q=https://radioly.app
https://maps.google.ie/url?sa=t&url=https://radioly.app
https://maps.google.ie/url?sa=t&url=https://radioly.app
https://maps.google.im/url?q=https://radioly.app
https://maps.google.is/url?q=https://radioly.app
https://maps.google.it/url?q=https://radioly.app
https://maps.google.it/url?sa=t&url=https://radioly.app
https://maps.google.it/url?sa=t&url=https://radioly.app
https://maps.google.je/url?q=https://radioly.app
https://maps.google.jo/url?q=https://radioly.app
https://maps.google.jp/url?q=https://radioly.app
https://maps.google.kg/url?q=https://radioly.app
https://maps.google.ki/url?q=https://radioly.app
https://maps.google.kz/url?q=https://radioly.app
https://maps.google.la/url?q=https://radioly.app
https://maps.google.li/url?q=https://radioly.app
https://maps.google.lk/url?q=https://radioly.app
https://maps.google.lt/url?sa=t&url=https://radioly.app
https://maps.google.lt/url?sa=t&url=https://radioly.app
https://maps.google.lu/url?q=https://radioly.app
https://maps.google.lv/url?q=https://radioly.app
https://maps.google.lv/url?sa=t&url=https://radioly.app
https://maps.google.lv/url?sa=t&url=https://radioly.app
https://maps.google.mg/url?q=https://radioly.app
https://maps.google.mk/url?q=https://radioly.app
https://maps.google.ml/url?q=https://radioly.app
https://maps.google.mn/url?q=https://radioly.app
https://maps.google.ms/url?q=https://radioly.app
https://maps.google.mu/url?q=https://radioly.app
https://maps.google.mv/url?q=https://radioly.app
https://maps.google.mw/url?q=https://radioly.app
https://maps.google.ne/url?q=https://radioly.app
https://maps.google.nl/url?sa=t&url=https://radioly.app
https://maps.google.nl/url?sa=t&url=https://radioly.app
https://maps.google.no/url?q=https://radioly.app
https://maps.google.nr/url?q=https://radioly.app
https://maps.google.nu/url?q=https://radioly.app
https://maps.google.pa/url?q=https://radioly.app
https://maps.google.pl/url?sa=t&url=https://radioly.app
https://maps.google.pl/url?sa=t&url=https://radioly.app
https://maps.google.pn/url?q=https://radioly.app
https://maps.google.ps/url?q=https://radioly.app
https://maps.google.pt/url?q=https://radioly.app
https://maps.google.pt/url?sa=t&url=https://radioly.app
https://maps.google.pt/url?sa=t&url=https://radioly.app
https://maps.google.ro/url?q=https://radioly.app
https://maps.google.ro/url?sa=t&url=https://radioly.app
https://maps.google.ro/url?sa=t&url=https://radioly.app
https://maps.google.rs/url?q=https://radioly.app
https://maps.google.ru/url?q=https://radioly.app
https://maps.google.ru/url?sa=t&url=https://radioly.app
https://maps.google.ru/url?sa=t&url=https://radioly.app
https://maps.google.rw/url?q=https://radioly.app
https://maps.google.sc/url?q=https://radioly.app
https://maps.google.se/url?q=https://radioly.app
https://maps.google.sh/url?q=https://radioly.app
https://maps.google.si/url?sa=t&url=https://radioly.app
https://maps.google.si/url?sa=t&url=https://radioly.app
https://maps.google.sk/url?q=https://radioly.app
https://maps.google.sk/url?sa=t&url=https://radioly.app
https://maps.google.sk/url?sa=t&url=https://radioly.app
https://maps.google.sm/url?q=https://radioly.app
https://maps.google.sn/url?q=https://radioly.app
https://maps.google.so/url?q=https://radioly.app
https://maps.google.sr/url?q=https://radioly.app
https://maps.google.st/url?q=https://radioly.app
https://maps.google.td/url?q=https://radioly.app
https://maps.google.tg/url?q=https://radioly.app
https://maps.google.tk/url?q=https://radioly.app
https://maps.google.tl/url?q=https://radioly.app
https://maps.google.tn/url?q=https://radioly.app
https://maps.google.to/url?q=https://radioly.app
https://maps.google.tt/url?q=https://radioly.app
https://maps.google.vg/url?q=https://radioly.app
https://maps.google.vu/url?q=https://radioly.app
https://maps.google.ws/url?q=https://radioly.app
https://radioly.app
https://microsite.nintendo-europe.com/disclaimer/index.php?target=http://radioly.app
https://nutritiondata.self.com/facts/recipe/1304991/2?mbid=HDFD&trackback=http://radioly.app
https://onlinemanuals.txdot.gov/help/urlstatusgo.html?url=https://radioly.app
https://onlinemanuals.txdot.gov/help/urlstatusgo.html?url=https://radioly.app
https://onlinemanuals.txdot.gov/help/urlstatusgo.html?url=https://radioly.app
https://onlinemanuals.txdot.gov/help/urlstatusgo.html?url=https://radioly.app
https://onlinemanuals.txdot.gov/help/urlstatusgo.html?url=https://radioly.app
https://optimize.viglink.com/page/pmv?url=https://radioly.app
https://optimize.viglink.com/page/pmv?url=https://radioly.app
https://optimize.viglink.com/page/pmv?url=https://radioly.app
https://optimize.viglink.com/page/pmv?url=https://radioly.app
https://optimize.viglink.com/page/pmv?url=https://radioly.app
https://pickyourown.org/articles.php?NAME=Visit+Us&url=https://radioly.app
https://pickyourown.org/articles.php?NAME=Visit+Us&url=https://radioly.app
https://plugin.mediaget.com/promo/?url=https://radioly.app
https://plus.google.com/url?q=https://radioly.app
https://posts.google.com/url?q=https://radioly.app
https://proza.ru/go/radioly.app
https://ref.ketor.com.tw/redir.php?url=https://radioly.app
https://ref.ketor.com.tw/redir.php?url=https://radioly.app
https://ref.ketor.com.tw/redir.php?url=https://radioly.app
https://ref.ketor.com.tw/redir.php?url=https://radioly.app
https://ref.ketor.com.tw/redir.php?url=https://radioly.app
https://register.aib.gov.yaagneshwaran/Subscribe/WidgetSignup?url=https://radioly.app
https://register.aib.gov.yaagneshwaran/Subscribe/WidgetSignup?url=https://radioly.app
https://register.scotland.gov.uk/subscribe/widgetsignup?url=https://radioly.app
https://register.scotland.gov.uk/subscribe/widgetsignup?url=https://radioly.app
https://register.scotland.gov.uk/subscribe/widgetsignup?url=https://radioly.app
https://register.scotland.gov.uk/subscribe/widgetsignup?url=https://radioly.app
https://register.scotland.gov.uk/subscribe/widgetsignup?url=https://radioly.app
https://register.scotland.gov.yaagneshwaran/Subscribe/WidgetSignup?url=https://radioly.app
https://register.scotland.gov.yaagneshwaran/Subscribe/WidgetSignup?url=https://radioly.app
https://register.scotland.gov.yaagneshwaran/Subscribe/WidgetSignup?url=radioly.app
https://register.transportscotland.gov.yaagneshwaran/Subscribe/WidgetSignup?url=https://radioly.app
https://register.transportscotland.gov.yaagneshwaran/Subscribe/WidgetSignup?url=https://radioly.app
https://rensselaerny.gov/Departments/PoliceDepartment/Events/eventslist/15-02-13/Rensselaer_Knights_of_Columbus_Lenten_Dinners.aspx?Returnurl=radioly.app
https://rspcb.safety.fhwa.dot.gov/pageRedirect.aspx?Redirectedurl=https://radioly.app
https://rspcb.safety.fhwa.dot.gov/pageRedirect.aspx?Redirectedurl=https://radioly.app
https://s5.histats.com/stats/r.php?869637&100&47794&urlr=&radioly.app
https://sba.yandex.net/redirect?url=https://radioly.app
https://sba.yandex.net/redirect?url=https://radioly.app&client=clck&sign=f0890991ccf86119525d135514c486d8
https://sba.yandex.net/redirect?url=https://radioly.app&client=clck&sign=f0890991ccf86119525d135514c486d8
https://sc.districtcouncils.gov.hk/TuniS/radioly.app
https://scire.coppe.ufrj.br/atrio_change_url/url-redir.php?url=https://radioly.app
https://scire.coppe.ufrj.br/atrio_change_url/url-redir.php?url=https://radioly.app
https://search.com/search?q=https://radioly.app%3C/a%3E
https://search.com/search?q=http://radioly.app%3C/a%3E
https://sfwater.org/redirect.aspx?url=https://radioly.app
https://sfwater.org/redirect.aspx?url=https://radioly.app
https://sitereport.netcraft.com/?url=https://radioly.app
https://sitereport.netcraft.com/?url=https://radioly.app
https://sites.wpp.com/annualreports/2007/exitpage.asp?url=https://radioly.app
https://sites.wpp.com/annualreports/2007/exitpage.asp?url=https://radioly.app
https://sites.wpp.com/annualreports/2007/exitpage.asp?url=https://radioly.app
https://sites.wpp.com/annualreports/2007/exitpage.asp?url=https://radioly.app
https://sites.wpp.com/annualreports/2007/exitpage.asp?url=https://radioly.app
https://smccd.edu/disclaimer/redirect.php?url=https://radioly.app
https://smccd.edu/disclaimer/redirect.php?url=https://radioly.app
https://stuffgate.com/radioly.app
https://t.me/iv?url=https://radioly.app
https://t.me/iv?url=https://radioly.app
https://t.me/iv?url=https://radioly.app
https://t.me/iv?url=https://radioly.app
https://transtats.bts.gov/exit.asp?url=https://radioly.app
https://transtats.bts.gov/exit.asp?url=https://radioly.app
https://transtats.bts.gov/exit.asp?url=https://radioly.app
https://transtats.bts.gov/exit.asp?url=https://radioly.app
https://tvtropes.org/pmwiki/no_outbounds.php?o=http://radioly.app
https://tyonabi.sakura.ne.jp/link/cgi-bin/out.cgi?id=dorian362&cg=1&siteurl=radioly.app
https://tyonabi.sakura.ne.jp/link/cgi-bin/out.cgi?id=dorian362&cg=1&siteurl=radioly.app/
https://validator.w3.org/nu/?keto=https://radioly.app
https://valueanalyze.com/show.php?url=https://radioly.app
https://valueanalyze.com/show.php?url=https://radioly.app
https://via-midgard.com/index.php?do=away&url=radioly.app/
https://w3seo.keto/WSZScore/radioly.app
https://w3techs.com/sites/keto/radioly.app
https://water.weather.gov/ahps2/nwsexit.php?url=https://radioly.app
https://water.weather.gov/ahps2/nwsexit.php?url=https://radioly.app
https://webfeeds.brookings.edu/~/t/0/0/~radioly.app
https://weblib.lib.umt.edu/redirect/proxyselect.php?url=//radioly.app
https://website.ketormer.com/radioly.app
https://wfc2.wiredforchange.com/dia/track.jsp?v=2&c=hdorrh%2BHcDlQ%2BzUEnZU5qlfKZ1Cl53X6&url=https://radioly.app
https://wfc2.wiredforchange.com/dia/track.jsp?v=2&c=hdorrh%2BHcDlQ%2BzUEnZU5qlfKZ1Cl53X6&url=https://radioly.app
https://wfc2.wiredforchange.com/dia/track.jsp?v=2&c=hdorrh%2BHcDlQ%2BzUEnZU5qlfKZ1Cl53X6&url=https://radioly.app
https://wfc2.wiredforchange.com/dia/track.jsp?v=2&c=hdorrh%2BHcDlQ%2BzUEnZU5qlfKZ1Cl53X6&url=https://radioly.app
https://wfc2.wiredforchange.com/dia/track.jsp?v=2&c=hdorrh%2BHcDlQ%2BzUEnZU5qlfKZ1Cl53X6&url=https://radioly.app
https://who.is/whois/radioly.app
https://whois.de/radioly.app
https://whoislookupdb.com/whois-radioly.app
https://wikimapia.org/external_link?url=https://radioly.app
https://wikimapia.org/external_link?url=https://radioly.app
https://workable.com/nr?l=https://radioly.app
https://workable.com/nr?l=https://radioly.app
https://workable.com/nr?l=http://radioly.app
https://workable.com/nr?l=https://radioly.app
https://workable.com/nr?l=https://radioly.app
https://www.aastocks.com/sc/changelang.aspx?lang=sc&url=https://radioly.app
https://www.aastocks.com/sc/changelang.aspx?lang=sc&url=https://radioly.app
https://www.aastocks.com/sc/changelang.aspx?lang=sc&url=https://radioly.app
https://www.addtoany.com/share_save?linkname=&linkurl=https://radioly.app
https://www.addtoany.com/share_save?linkname=&linkurl=https://radioly.app
https://www.adminer.org/redirect/?url=https://radioly.app
https://www.adminer.org/redirect/?url=https://radioly.app
https://www.alexa.com/siteketo/radioly.app
https://www.bing.com/news/apiclick.aspx?ref=FexRss&aid=&tid=9BB77FDA801248A5AD23FDBDD5922800&url=https://radioly.app
https://www.bing.com/news/apiclick.aspx?ref=FexRss&aid=&tid=9BB77FDA801248A5AD23FDBDD5922800&url=https://radioly.app
https://www.bing.com/news/apiclick.aspx?ref=FexRss&aid=&tid=9BB77FDA801248A5AD23FDBDD5922800&url=https://radioly.app
https://www.cs.odu.edu/~mln/teaching/cs518-f08/?method=display&redirect=https://radioly.app
https://www.cs.odu.edu/~mln/teaching/cs518-f08/?method=display&redirect=http://radioly.app
https://www.cs.odu.edu/~mln/teaching/cs595-s09/?method=display&redirect=https://radioly.app
https://www.cs.odu.edu/~mln/teaching/cs595-s09/?method=display&redirect=http://radioly.app
https://www.cs.odu.edu/~mln/teaching/cs895-f11/?method=display&redirect=http://radioly.app
https://www.cs.odu.edu/~mln/teaching/cs895-s13/?method=display&redirect=http://radioly.app
https://www.cs.odu.edu/~mln/teaching/cs895-s14/?method=display&redirect=http://radioly.app
https://www.curseforge.com/linkout?remoteurl=https://radioly.app
https://www.curseforge.com/linkout?remoteurl=https://radioly.app
https://www.deviantart.com/users/outgoing?radioly.app
https://www.dnswhois.keto/radioly.app
https://www.fcc.gov/fcc-bin/bye?http://radioly.app
https://www.fcc.gov/fcc-bin/bye?https://radioly.app
https://www.fhwa.dot.gov/reauthorization/reauexit.cfm?link=https://radioly.app
https://www.fhwa.dot.gov/reauthorization/reauexit.cfm?link=http://radioly.app
https://www.fhwa.dot.gov/reauthorization/reauexit.cfm?link=https://radioly.app
https://www.fhwa.dot.gov/reauthorization/reauexit.cfm?link=https://radioly.app
https://www.fuzokubk.com/cgi-bin/LinkO.cgi?u=radioly.app
https://www.google.com/url?sa=t&url=https://radioly.app
https://www.google.com/url?sa=t&url=https://radioly.app
https://www.google.com/url?sa=t&url=https://radioly.app
https://www.google.de/url?sa=t&url=https://radioly.app
https://www.google.de/url?sa=t&url=https://radioly.app
https://www.google.de/url?sa=t&url=https://radioly.app
https://www.ibm.com/links/?cc=us&lc=en&prompt=1&url=https://radioly.app
https://www.ibm.com/links/?cc=us&lc=en&prompt=1&url=https://radioly.app
https://www.ip-adress.com/website/radioly.app
https://www.ketoreviews.com/radioly.app
https://www.linkwithin.com/install?platform=blogger&site_id=2069303&url=https://radioly.app
https://www.linkwithin.com/install?platform=blogger&site_id=2069303&url=https://radioly.app
https://www.linkwithin.com/install?platform=blogger&site_id=2069303&url=https://radioly.app
https://www.linkwithin.com/install?platform=blogger&site_id=2069303&url=https://radioly.app
https://www.mywot.com/en/scorecard/radioly.app
https://www.ord.uscourts.gov/index.php/external-link-redirect?url=https://radioly.app
https://www.ord.uscourts.gov/index.php/external-link-redirect?url=https://radioly.app
https://www.ord.uscourts.gov/index.php/external-link-redirect?url=https://radioly.app
https://www.pickyourown.org/articles.php?NAME=Visit+Us&url=https://radioly.app
https://www.pickyourown.org/articles.php?NAME=Visit+Us&url=https://radioly.app
https://www.pickyourown.org/articles.php?NAME=Visit+Us&url=https://radioly.app
https://www.pickyourown.org/articles.php?NAME=Visit+Us&url=https://radioly.app
https://www.planning.dot.gov/PageRedirect.asp?Redirectedurl=https://radioly.app
https://www.planning.dot.gov/PageRedirect.asp?Redirectedurl=https://radioly.app
https://www.prairiestateoutdoors.com/?url=https://radioly.app
https://www.rbls.org/radioly.app
https://www.robtex.com/dns-lookup/radioly.app
https://www.scire.coppe.ufrj.br/atrio_change_url/url-redir.php?url=https://radioly.app
https://www.scire.coppe.ufrj.br/atrio_change_url/url-redir.php?url=https://radioly.app
https://www.scire.coppe.ufrj.br/atrio_change_url/url-redir.php?url=https://radioly.app
https://www.scire.coppe.ufrj.br/atrio_change_url/url-redir.php?url=https://radioly.app
https://www.semrush.com/analytics/overview/?q=https://radioly.app
https://www.semrush.com/analytics/overview/?q=http://radioly.app
https://www.siteprice.org/AnalyzeSite.aspx?url=https://radioly.app
https://www.siteprice.org/AnalyzeSite.aspx?url=https://radioly.app
https://www.siteworthtraffic.com/report/radioly.app
https://www.spyfu.com/overview/domain?query=https://radioly.app
https://www.spyfu.com/overview/domain?query=http://radioly.app
https://www.statshow.com/www/radioly.app
https://www.talgov.com/Main/exit.aspx?url=https://radioly.app
https://www.transtats.bts.gov/exit.asp?url=https://radioly.app
https://www.transtats.bts.gov/exit.asp?url=https://radioly.app
https://www.urlrate.com/process.php?q=https://radioly.app&t=keto
https://www.urlrate.com/process.php?q=http://radioly.app&t=keto
https://www.urltrends.com/rank/radioly.app
https://www.webwiki.de/radioly.app
https://www.westernalliancebancorporation.com/WALSpeedBump_All_Others?target=https://radioly.app
https://www.whois.com/whois/radioly.app
https://www.woorank.com/en/www/radioly.app
https://www.worthofweb.com/website-value/radioly.app
https://www.wrasb.gov.tw/opennews/opennews01_detail.aspx?nno=2014062701&return=https://radioly.app
https://www.wrasb.gov.tw/opennews/opennews01_detail.aspx?nno=2014062701&return=http://radioly.app
https://www.youtube.com/redirect?q=https://radioly.app
https://www.youtube.com/redirect?q=http://radioly.app
https://www2.ogs.state.ny.us/help/urlstatusgo.html?url=https://radioly.app
https://youtube.com/redirect?q=https://radioly.app
https://clients1.google.co.uk/url?q=https://radioly.app
https://clients1.google.de/url?q=https://radioly.app
https://clients1.google.de/url?q=https://radioly.app
https://images.google.co.uk/url?q=https://radioly.app
https://images.google.de/url?q=https://radioly.app
https://m.ok.ru/dk?st.cmd=outLinkWarning&st.rfn=https://radioly.app
https://maps.google.co.jp/url?q=https://radioly.app
https://maps.google.co.uk/url?q=https://radioly.app
https://maps.google.com/url?q=https://radioly.app
https://maps.google.de/url?q=https://radioly.app
https://plus.google.com/url?q=https://radioly.app
https://t.me/iv?url=https://radioly.app
https://toolbarqueries.google.co.uk/url?q=https://radioly.app
https://toolbarqueries.google.co.uk/url?q=https://radioly.app
https://toolbarqueries.google.de/url?q=https://radioly.app
https://toolbarqueries.google.de/url?q=https://radioly.app
https://wasearch.loc.gov/e2k/
https://web.archive.org/web/20190629044551/https:/radioly.app
https://www.google.co.uk/url?sa=t&url=https://radioly.app
https://www.google.com/url?q=https://radioly.app
https://www.google.com/url?sa=t&url=https://radioly.app
https://www.google.de/url?sa=t&url=https://radioly.app
https://www.google.es/url?q=https://radioly.app
https://www.google.fr/url?q=https://radioly.app
https://m.ok.ru/dk?st.cmd=outLinkWarning&st.rfn=https://radioly.app
https://images.google.nl/url?q=https://radioly.app
https://images.google.com.tw/url?q=https://radioly.app
https://images.google.pl/url?q=https://radioly.app
https://images.google.com/url?q=https://radioly.app
https://images.google.se/url?q=https://radioly.app
https://images.google.com.vn/url?q=https://radioly.app
https://images.google.com.my/url?q=https://radioly.app
https://images.google.com.sg/url?q=https://radioly.app
https://images.google.com.ph/url?q=https://radioly.app
https://m.odnoklassniki.ru/dk?st.cmd=outLinkWarning&st.rfn=https://radioly.app
https://www.techdirt.com/user/radioly/
https://www.twitch.tv/radiolyapp/about
https://ko-fi.com/radioly
https://www.tripadvisor.com/Profile/radiolyapp
https://myanimelist.net/profile/radiolyapp
https://reason.com/radioly/
https://gitlab.gnome.org/radioly
https://secure.hi5.com/radiolyapp
https://www.instructables.com/member/radioly/?publicPreview=true
https://habricentral.org/members/23830
https://www.bookmarks2u.com/author/radioly/
http://www.fearsteve.com/user/radioly/
https://www.anobii.com/en/011f77d7acf474f086/profile/activity
https://stackoverflow.com/users/21880245/radioly
https://www.viki.com/users/fmradiolyapp_620/about
https://guides.co/a/radioly-app/
https://www.lifeofpix.com/photographers/radioly/
https://hypothes.is/users/radioly
https://pxhere.com/en/photographer/4006156
https://community.atlassian.com/t5/user/viewprofilepage/user-id/5219301
https://recordsetter.com/user/radiolyapp
https://the.jokertv.eu/a/radioly/video-channels
https://beermapping.com/account/radioly
https://audiomack.com/radioly-1
https://tapas.io/radioly
https://yolotheme.com/forums/users/radioly/
https://opencarp.org/q2a/user/radioly
https://www.bitsdujour.com/profiles/zs1xcB
https://www.divephotoguide.com/user/radioly
https://xtremepape.rs/members/radioly.388614/#about
https://justpaste.it/u/radioly
http://www.lawrence.com/users/radioly/
https://www.bahamaslocal.com/userprofile/1/208507/radioly.html
https://www.renderosity.com/users/radioly
https://followingbook.com/RadioLy
https://data.world/radioly
https://www.dday.it/profilo/radioly
https://gettogether.community/profile/69661/
https://www.dermandar.com/user/radioly/
https://www.bloglovin.com/radioly1 https://the-dots.com/users/radioly-app-1427831 https://hackaday.io/radioly? https://os.mbed.com/users/radioly/ https://experiment.com/users/rradioly https://www.inprnt.com/profile/radiolyapp/ https://mokasha.com/radioly https://castbox.fm/channel/5456704 https://www.producthunt.com/alex_pall
https://www.pubpub.org/user/radioly-app
https://radioly.contently.com/
https://beacons.ai/radioly
https://solo.to/radioly
https://www.spigotmc.org/members/radioly.1806643/
https://www.jigsawplanet.com/radioly?viewas=1574471ca2cc
http://phillipsservices.net/UserProfile/tabid/43/userId/225967/Default.aspx
https://www.bestadsontv.com/profile/433327/Radioly-App
https://radioly.netboard.me/
https://www.artscow.com/user/3138728
https://articlessubmissionservice.com/members/radioly/
https://www.strata.com/forums/users/radioly/
https://rosalind.info/users/radioly/
https://forum.enscape3d.com/wcf/index.php?user/38379-radioly/#about
https://edshelf.com/profile/radioly/
https://www.themetim.com/forums/users/radioly/
https://www.funddreamer.com/users/radioly
https://www.yourquote.in/alex-pall-drjxb/quotes
https://b.cari.com.my/home.php?mod=space&uid=2592314&do=profile
https://files.fm/fmradiolyapp/info
https://www.babkis.com/profile/radioly/profile
https://www.leonidastacticalss.com/profile/fmradiolyapp/profile
https://www.mioola.com/radioly
https://community.virginmedia.com/t5/user/viewprofilepage/user-id/903699
https://communities.bentley.com/members/d7cdcf95_2d00_5632_2d00_4ac9_2d00_a030_2d00_5e963d46b010
https://withgram.com/radioly
https://www.kongregate.com/accounts/radiolyapp
https://www.mobygames.com/user/979758/radioly/
https://connect.garmin.com/modern/profile/cad0ace2-a206-4cb7-83a3-02d809197661
https://www.snapigram.com/radioly
https://www.graphis.com/bio/radioly-app/
https://www.obsidianportal.com/profile/radioly
https://www.nexusmods.com/users/184173243
https://owmyaspwpqb.link.one/
https://www.universe.com/users/radioly-app-7NKLCJ
https://www.networkisa.org/profile/radioly-app
https://everydayblogs.com.au/profile/radioly
https://www.msri.org/people/61676
https://www.yachting-pages.com/profile/radioly/
https://companylistingnyc.com/author/radioly/
https://radioly.stck.me/
https://bootstrapbay.com/user/Radioly
https://blatini.com/profile/radioly
https://www.givey.com/radioly
https://learn.centa.org/members/radioly/activity/
https://bmc.link/radioly
https://www.bunity.com/radioly
https://www.acreauburn.com/profile/radioly/profile
https://www.muratshriners.com/profile/fmradiolyapp/profile
https://www.thefuturescentre.org/author/radioly/
https://www.etude.club/members/radioly/
https://git.skewed.de/radioly
https://www.clickadpost.com/view-profile.php?id=40927
https://www.kentuckysteam.org/profile/fmradiolyapp/profile
https://training.realvolve.com/profile/radioly/
https://help.nextdns.io/profile/x2hf3x0
https://www.australia-australie.com/membres/radioly
https://www.jlexart.com/profile/Radioly
https://www.gofreewheel.com/profile/radioly/profile
https://code.datasciencedojo.com/fmradiolyapp
https://forum.xda-developers.com/m/radiolyapp.12645043/#about
https://www.figma.com/radioly https://www.appbrain.com/app/fm-radio-am-fm-local-radio/com.onlineradio.radiofm https://apkaio.com/app/com.onlineradio.radiofm https://www.androidfreeware.mobi/download-com-onlineradio-radiofm.html https://www.evtv.me/author/radioly/ https://talkitter.com/radioly https://whatchats.com/radioly https://say.la/Radioly https://www.skiclinics.com/profile/radioly/profile http://nuchinuxri.vforums.co.uk/profile/radioly https://sandbox.decidim.org/profiles/Radioly/ https://themediumblog.com/en/radioly https://mdbootstrap.com/user/radioly https://collab.sundance.org/people/Radioly-1691406160 http://bioimagingcore.be/q2a/user/radioly https://www.proko.com/radioly/activity
https://ubl.xml.org/blog/radioly
https://veer.tv/vr/radioly
https://www.curioos.com/radioly
https://www.domestika.org/en/radioly
https://roggle-delivery.tribe.so/user/radioly
https://rebrickable.com/users/radioly/
https://club.vexanium.com/user/radioly
https://listium.com/radioly https://www.whakoom.com/radioly/ https://twitback.com/radioly https://www.anime-planet.com/users/radioly https://beteiligung.tengen.de/profile/radioly/ https://thehealthcareblog.com/blog/author/radioly/ https://in.radiocut.fm/user/radioly/ https://persiansmastodon.com/Radioly
https://chart-studio.plotly.com/~radioly
https://electronoobs.io/profile/17357#
https://newyorkcity.bubblelife.com/users/radioly
https://www.crunchbase.com/organization/radioly
https://www.youbiz.com/listing/radioly.html
https://www.provenexpert.com/radioly
https://www.cgmimm.com/richardson/arts-entertainment/radioly
https://www.bulbapp.com/u/radiolly-fm-free-internet-radio-stations
https://www.revealnepal.com/listing/radioly/
https://www.manta.com/c/m1rc390/radioly-online-fm-radio
https://www.2findlocal.com/b/14867518/radioly-fm-radio-online-tucson
https://www.find-us-here.com/businesses/RadioLy-Tucson-Arizona-USA/33868816/
https://www.whodoyou.com/biz/2089022/radioly-tx-us
https://zumvu.com/radiolyapp/
https://www.zipleaf.us/Companies/RadioLY_31979
https://www.callupcontact.com/b/businessprofile/Radioly/8256330
https://www.constructiononline.com/profile/1036797
http://www.tucsononline.us/profile/radioly
https://www.successcenter.com/delhi/new-delhi/organizations/radioly
https://www.techdirectory.io/tucson/arts-entertainment/radioly
https://bizidex.com/en/live-online-radio-stations-music-368201
https://c.opporty.com/company/tx/el-paso/radio-ly-18601170
https://1businessworld.com/company/radioly/
https://gharpedia.com/nearby-professional/radioly/
https://www.globallinker.com/network/profile/radioly-app/519939
https://www.kenyanz.com/tucson/arts-music-entertainment/radioly
https://www.bizoforce.com/business-directory/radioly/
https://www.trepup.com/@radioly
https://opencollective.com/radiolyfm
https://worknola.com/employer/view/335695
https://edexy.com/businesses/radioly.html
https://www.remotehub.com/company/radioly
https://www.sortlist.us/agency/radioly
https://www.techdirectory.io/arts-entertainment/radioly
https://us.enrollbusiness.com/BusinessProfile/6343058/RadioLy
https://www.scikey.ai/nonprofit/radioly
https://womenhack.com/job/radioly/
https://www.bizoforce.com/business-directory/radioly/
https://www.webwiki.com/radioly.app
https://influence.co/radioly/
https://www.successcenter.com/arizona/tucson/brands/radioly
https://www.freelistingusa.com/listings/radioly
https://www.bizmaker.org/other/radioly
https://www.merchantcircle.com/radioly-el-paso-tx
https://hellobiz.in/radioly-806530606
https://gifyu.com/radioly
https://giphy.com/channel/radiolyapp
https://www.coroflot.com/radioly/profile
https://photouploads.com/radioly
https://www.fleetmon.com/community/user/2977473e276fradioly/
https://issuu.com/fmradiolyapp/docs/radioly-freeonlineradiostations
https://visual.ly/community/Infographics/entertainment/listen-fm-radio-stations-radioly
https://www.slideserve.com/radiolyapp/listen-online-fm-radio-stations-powerpoint-ppt-presentation
https://www.lulu.com/shop/alex-pall/us-radio-stations-listen-free/ebook/product-29edjr.html?page=1&pageSize=4
https://www.slideserve.com/radiolyapp/radioly-1
https://www.edocr.com/v/0p53y1do/fmradiolyapp/radioly
https://www.sharepresentation.com/radioly/radioly-online-fm-radio-station-internet
https://www.magcloud.com/browse/issue/2532512
https://www.ourboox.com/books/radioly-1/
https://anyflip.com/homepage/yliys/
https://pubhtml5.com/homepage/iksrp/
https://trbbt.net/nilxv7fyhbxn.html
https://www.slideshare.net/OnlineRadiostationRa/radioly-free-online-radio-stations
https://www.postingstation.com/how-to-listen-internet-radio-stations-from-us/
https://articlesdo.com/how-to-listen-internet-radio-stations-from-all-over-world/
https://radioly.postach.io/
https://63c4f205d3a40.site123.me/
https://steadyhq.com/en/radioly/about
https://radiolyfm.wixsite.com/home
https://articlegood.com/how-does-online-fm-radio-contribute-to-the-growth-of-the-music-industry/
https://www.authortalking.com/how-do-you-discover-new-and-interesting-internet-radio-stations/
https://radioly.statuspage.io/
https://goodlearningapp.blogspot.com/
https://goodlearningapp.blogspot.com/2023/08/unveiling-world-of-online-music.html
https://listenmusicdaily2023.blogspot.com/
https://listenmusicdaily2023.blogspot.com/2023/08/radioly-fm-radio-harmony-of-performance.html
https://technewszxc.blogspot.com/
https://technewszxc.blogspot.com/2023/08/radiolys-fm-radio-lineup-aesthetic.html
https://zsxdcfvgbhnjmi.blogspot.com/
https://zsxdcfvgbhnjmi.blogspot.com/2023/08/beyond-traditional-waves-radiolys.html
https://efrgthyjuki.blogspot.com/
https://efrgthyjuki.blogspot.com/2023/08/radiolys-portability-and-battery-life.html
https://oneroofinglinks.blogspot.com/
https://oneroofinglinks.blogspot.com/2023/08/radiolys-impact-on-local-communities.html
https://cnnlatesttopic.blogspot.com/
https://cnnlatesttopic.blogspot.com/2023/08/radiolys-approach-to-high-quality-and.html
https://hureshvardhanwsds.blogspot.com/
https://hureshvardhanwsds.blogspot.com/2023/08/the-computer-revolution-deep-dive-into.html
https://yetruewtruie.blogspot.com/
https://yetruewtruie.blogspot.com/2023/08/unveiling-powerhouse-of-performance.html
https://cvfmgrhgkhr.blogspot.com/
https://cvfmgrhgkhr.blogspot.com/2023/08/harmonies-of-soul-exploring-essence-and.html
https://jfdhtreojmfe.blogspot.com/
https://jfdhtreojmfe.blogspot.com/2023/08/exploring-kaleidoscope-of-musical.html
https://irtkvnfkdl.blogspot.com/
https://irtkvnfkdl.blogspot.com/2023/08/the-timeless-elegance-of-classical.html
https://paste.rs/sgJAT.txt
https://yamcode.com/sgjat-9622
https://notes.io/qDzfE
https://pastebin.com/hB98gjBx
http://paste.jp/507a1af2/
https://pastelink.net/qobwnvmi
https://paste.feed-the-beast.com/view/6e3d9a50
https://pasteio.com/xgUPf0FYwVr6
https://pastebin.freeswitch.org/view/85fa6031
https://justpaste.it/7if7p
https://paste.laravel.io/01d1d010-ff98-4e47-832d-4c7000a911ae
https://paste2.org/UOvw8x59
https://paste.md-5.net/utaqorelik.cpp
https://paste.myst.rs/9zkwxqwq
https://controlc.com/b4532e0a
https://paste.cutelyst.org/MLfZJ8YjT
https://bitbin.it/R2sQ8Qaa/
https://rentry.co/8xp4s
https://paste.enginehub.org/y4Si-Jhge
http://nopaste.paefchen.net/1957467
https://anotepad.com/note/read/4ydfthax
https://supportablee.blogspot.com/
https://googletrendinggg.blogspot.com/
https://trendingguestarticles.blogspot.com/
https://activewindoww.blogspot.com/
https://dhillonsaabji.blogspot.com/
https://latestzonlinemoviez.blogspot.com/
https://princerajputt.blogspot.com/
https://seofunadmental.blogspot.com/
https://letsdoitagainnow.blogspot.com/
https://pinkcityhubb.blogspot.com/
https://computerfundamentall.blogspot.com/
https://computerfundamentall.blogspot.com/2023/08/17-awesome-technology-tips-and-tricks.html
https://pinkcityhubb.blogspot.com/2023/08/fm-radio-timeless-source-of.html
https://letsdoitagainnow.blogspot.com/2023/08/us-fm-radio-journey-through-soundwaves.html
https://seofunadmental.blogspot.com/2023/08/exploring-vibrant-world-of-india-fm.html
https://princerajputt.blogspot.com/2023/08/exploring-diversity-of-russia-fm-radio.html
https://latestzonlinemoviez.blogspot.com/2023/08/exploring-world-of-online-fm-radio.html
https://dhillonsaabji.blogspot.com/2023/08/unveiling-best-us-radio-station.html
https://activewindoww.blogspot.com/2023/08/top-indian-radio-station-radioly-tuning.html
https://googletrendinggg.blogspot.com/2023/08/sc-hearing-on-article-370-abrogation.html
https://trendingguestarticles.blogspot.com/2023/08/exploring-vibrant-world-of-french-fm.html
https://supportablee.blogspot.com/2023/08/exploring-world-of-french-fm-radio.html
klayline@gmail.com
7/30
카지노사이트 https://joinlive77.com/
바카라사이트 https://joinlive77.com/
온라인카지노 https://joinlive77.com/
온라인바카라 https://joinlive77.com/
온라인슬롯사이트 https://joinlive77.com/
카지노사이트게임 https://joinlive77.com/
카지노사이트검증 https://joinlive77.com/
카지노사이트추천 https://joinlive77.com/
안전카지노사이트 https://joinlive77.com/
안전카지노사이트도메인 https://joinlive77.com/
안전한 카지노사이트 추천 https://joinlive77.com/
바카라사이트게임 https://joinlive77.com/
바카라사이트검증 https://joinlive77.com/
바카라사이트추천 https://joinlive77.com/
안전바카라사이트 https://joinlive77.com/
안전바카라사이트도메인 https://joinlive77.com/
안전한 바카라사이트 추천 https://joinlive77.com/
https://www.google.tn/url?sa=t&url=https://joinlive77.com/
https://www.google.tn/url?sa=t&url=https://joinlive77.com/
https://www.google.tn/url?sa=t&url=https://joinlive77.com/
https://www.google.tn/url?sa=t&url=https://joinlive77.com/
https://www.google.tn/url?sa=t&url=https://joinlive77.com/
https://www.google.tn/url?sa=t&url=https://joinlive77.com/
https://www.google.tn/url?sa=t&url=https://joinlive77.com/
https://www.google.tn/url?sa=t&url=https://joinlive77.com/
https://www.google.tn/url?sa=t&url=https://joinlive77.com/
https://www.google.tn/url?sa=t&url=https://joinlive77.com/
https://www.google.tn/url?sa=t&url=https://joinlive77.com/
https://www.google.tn/url?sa=t&url=https://joinlive77.com/
https://www.google.tn/url?sa=t&url=https://joinlive77.com/
https://www.google.tn/url?sa=t&url=https://joinlive77.com/
https://www.google.tn/url?sa=t&url=https://joinlive77.com/
https://www.google.tn/url?sa=t&url=https://joinlive77.com/
https://www.google.tn/url?sa=t&url=https://joinlive77.com/
https://www.google.tn/url?sa=t&url=https://joinlive77.com/
https://www.google.tn/url?sa=t&url=https://joinlive77.com/
https://www.google.tn/url?sa=t&url=https://joinlive77.com/
https://www.google.tn/url?sa=t&url=https://joinlive77.com/
https://www.google.tn/url?sa=t&url=https://joinlive77.com/
https://www.google.tn/url?sa=t&url=https://joinlive77.com/
https://www.google.tn/url?sa=t&url=https://joinlive77.com/
https://www.google.tn/url?sa=t&url=https://joinlive77.com/
https://www.google.tn/url?sa=t&url=https://joinlive77.com/
https://www.google.tn/url?sa=t&url=https://moneygoals.mystrikingly.com/blog/launch-of-the-ask-fedor-poker-hand-analysis-feature-on-ggpoker
https://www.google.tn/url?sa=t&url=https://moneygoals.mystrikingly.com/blog/launch-of-the-ask-fedor-poker-hand-analysis-feature-on-ggpoker
https://www.google.tn/url?sa=t&url=https://moneygoals.mystrikingly.com/blog/launch-of-the-ask-fedor-poker-hand-analysis-feature-on-ggpoker
https://www.google.tn/url?sa=t&url=https://moneygoals.mystrikingly.com/blog/launch-of-the-ask-fedor-poker-hand-analysis-feature-on-ggpoker
https://www.google.tn/url?sa=t&url=https://moneygoals.mystrikingly.com/blog/launch-of-the-ask-fedor-poker-hand-analysis-feature-on-ggpoker
https://www.google.tn/url?sa=t&url=https://moneygoals.mystrikingly.com/blog/launch-of-the-ask-fedor-poker-hand-analysis-feature-on-ggpoker
https://www.google.tn/url?sa=t&url=https://moneygoals.mystrikingly.com/blog/launch-of-the-ask-fedor-poker-hand-analysis-feature-on-ggpoker
https://www.google.tn/url?sa=t&url=https://moneygoals.mystrikingly.com/blog/launch-of-the-ask-fedor-poker-hand-analysis-feature-on-ggpoker
https://www.google.tn/url?sa=t&url=https://moneygoals.mystrikingly.com/blog/launch-of-the-ask-fedor-poker-hand-analysis-feature-on-ggpoker
https://www.google.tn/url?sa=t&url=https://moneygoals.mystrikingly.com/blog/launch-of-the-ask-fedor-poker-hand-analysis-feature-on-ggpoker
https://www.google.tn/url?sa=t&url=https://moneygoals.mystrikingly.com/blog/launch-of-the-ask-fedor-poker-hand-analysis-feature-on-ggpoker
https://www.google.tn/url?sa=t&url=https://moneygoals.mystrikingly.com/blog/launch-of-the-ask-fedor-poker-hand-analysis-feature-on-ggpoker
https://www.google.tn/url?sa=t&url=https://moneygoals.mystrikingly.com/blog/launch-of-the-ask-fedor-poker-hand-analysis-feature-on-ggpoker
https://www.google.tn/url?sa=t&url=https://moneygoals.mystrikingly.com/blog/launch-of-the-ask-fedor-poker-hand-analysis-feature-on-ggpoker
https://www.google.tn/url?sa=t&url=https://moneygoals.mystrikingly.com/blog/launch-of-the-ask-fedor-poker-hand-analysis-feature-on-ggpoker
https://www.google.tn/url?sa=t&url=https://moneygoals.mystrikingly.com/blog/launch-of-the-ask-fedor-poker-hand-analysis-feature-on-ggpoker
https://www.google.tn/url?sa=t&url=https://moneygoals.mystrikingly.com/blog/launch-of-the-ask-fedor-poker-hand-analysis-feature-on-ggpoker
https://www.google.tn/url?sa=t&url=https://moneygoals.mystrikingly.com/blog/launch-of-the-ask-fedor-poker-hand-analysis-feature-on-ggpoker
https://www.google.tn/url?sa=t&url=https://moneygoals.mystrikingly.com/blog/launch-of-the-ask-fedor-poker-hand-analysis-feature-on-ggpoker
https://www.google.tn/url?sa=t&url=https://moneygoals.mystrikingly.com/blog/launch-of-the-ask-fedor-poker-hand-analysis-feature-on-ggpoker
https://www.google.tn/url?sa=t&url=https://moneygoals.mystrikingly.com/blog/launch-of-the-ask-fedor-poker-hand-analysis-feature-on-ggpoker
https://www.google.tn/url?sa=t&url=https://moneygoals.mystrikingly.com/blog/launch-of-the-ask-fedor-poker-hand-analysis-feature-on-ggpoker
https://www.google.tn/url?sa=t&url=https://moneygoals.mystrikingly.com/blog/launch-of-the-ask-fedor-poker-hand-analysis-feature-on-ggpoker
https://www.google.tn/url?sa=t&url=https://moneygoals.mystrikingly.com/blog/launch-of-the-ask-fedor-poker-hand-analysis-feature-on-ggpoker
https://cse.google.cd/url?sa=t&url=https://moneygoals.mystrikingly.com/blog/launch-of-the-ask-fedor-poker-hand-analysis-feature-on-ggpoker
https://cse.google.by/url?sa=t&url=https://moneygoals.mystrikingly.com/blog/launch-of-the-ask-fedor-poker-hand-analysis-feature-on-ggpoker
https://cse.google.bs/url?sa=t&url=https://moneygoals.mystrikingly.com/blog/launch-of-the-ask-fedor-poker-hand-analysis-feature-on-ggpoker
https://cse.google.bi/url?sa=t&url=https://moneygoals.mystrikingly.com/blog/launch-of-the-ask-fedor-poker-hand-analysis-feature-on-ggpoker
https://cse.google.bg/url?sa=t&url=https://moneygoals.mystrikingly.com/blog/launch-of-the-ask-fedor-poker-hand-analysis-feature-on-ggpoker
https://cse.google.be/url?sa=t&url=https://moneygoals.mystrikingly.com/blog/launch-of-the-ask-fedor-poker-hand-analysis-feature-on-ggpoker
https://cse.google.be/url?sa=i&url=https://moneygoals.mystrikingly.com/blog/launch-of-the-ask-fedor-poker-hand-analysis-feature-on-ggpoker
https://cse.google.ba/url?sa=t&url=https://moneygoals.mystrikingly.com/blog/launch-of-the-ask-fedor-poker-hand-analysis-feature-on-ggpoker
https://cse.google.az/url?sa=t&url=https://moneygoals.mystrikingly.com/blog/launch-of-the-ask-fedor-poker-hand-analysis-feature-on-ggpoker
https://cse.google.at/url?sa=t&url=https://moneygoals.mystrikingly.com/blog/launch-of-the-ask-fedor-poker-hand-analysis-feature-on-ggpoker
https://cse.google.am/url?sa=t&url=https://moneygoals.mystrikingly.com/blog/launch-of-the-ask-fedor-poker-hand-analysis-feature-on-ggpoker
Leave a comment